Salad with quinoa, asparagus and peas. Delicious and crunchy sweet potato chips
Let's eat asparagus while the season lasts. They are very tasty when they are briefly cooked and blanched, then they are firm and crispy.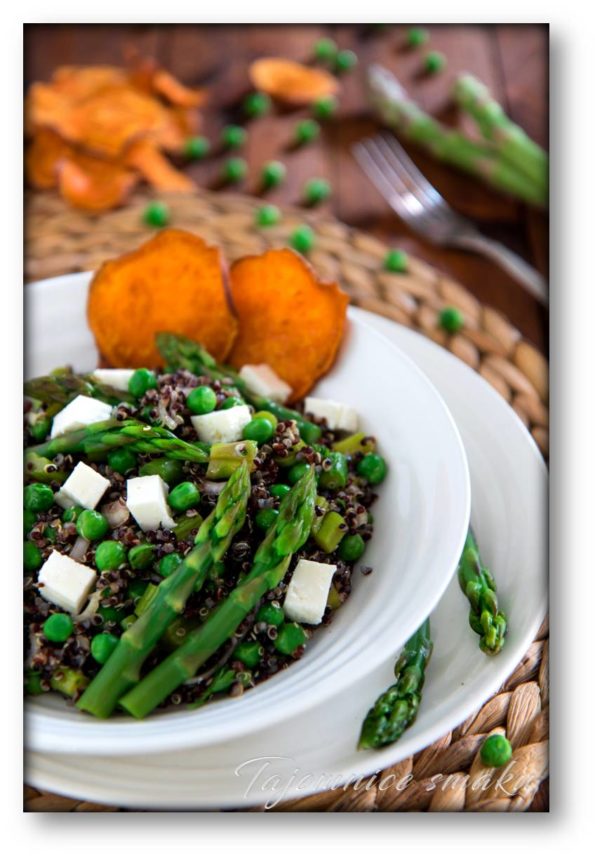 Asparagus in combination with quinoa, crispy peas and feta cheese make a delicious, healthy dish, both for breakfast and lunch. The addition of intensely orange, sweet and crunchy sweet potato chips will add both visual and taste character to the salad.
INGREDIENTS
SWEET POTATO CHIPS
1 - 2 yams
1 teaspoon olive oil
salt
dried chilli
SALAD
1 bunch green asparagus
100 g green peas - frozen or fresh
100 g feta cheese, diced
1 shallot, diced feathers
200 g cooked quinoa - black quinoa
1 tbsp olive oil
1 tsp lemon juice
salt li>
pepper
EXECUTION
SWEET POTATO CHIPS
Wash sweet potatoes with skin, dry and cut into very thin slices. We try to make them as thick as possible.
Coat sweet potato slices in olive oil, salt and chili.
Preheat the oven to 200°C top and bottom.
Put the sweet potatoes on a baking sheet lined with baking paper. Bake for about 15 minutes, being careful not to burn them. You can turn them over halfway through baking. They should be dry and crispy. A moment of inattention and they can be burned, so it's worth being vigilant and that's why it's important that they are of equal thickness.
SALA
Green asparagus is blanched. Boil salted water in a pot, clean the asparagus and cut off the hard ends. Prepare a bowl with cold water and ice cubes. Throw the asparagus into the boiling water and cook for about 3 to 5 minutes (the time depends on the thickness of the vegetable), then remove them with a slotted spoon and place them in ice water. Then we cut the asparagus into pieces.
Green peas, if you use frozen ones, just put them in a sieve, pour warm tap water and leave them for about 10 minutes.
In a bowl, mix cooked quinoa, chopped shallot, drained peas, asparagus pieces, olive oil, lemon juice, salt and pepper. Put feta pieces and sweet potato chips on top.
also check
Comments