Pie with pistachios and Calvados
Fried chicken liver pâté, flambéed with Calvados. The addition of pistachios will enrich both the taste of the livers and the consistency, because we add them at the very end, chopped.
This dish will become even more refined when served in small ramekins, garnished with clarified butter and spices.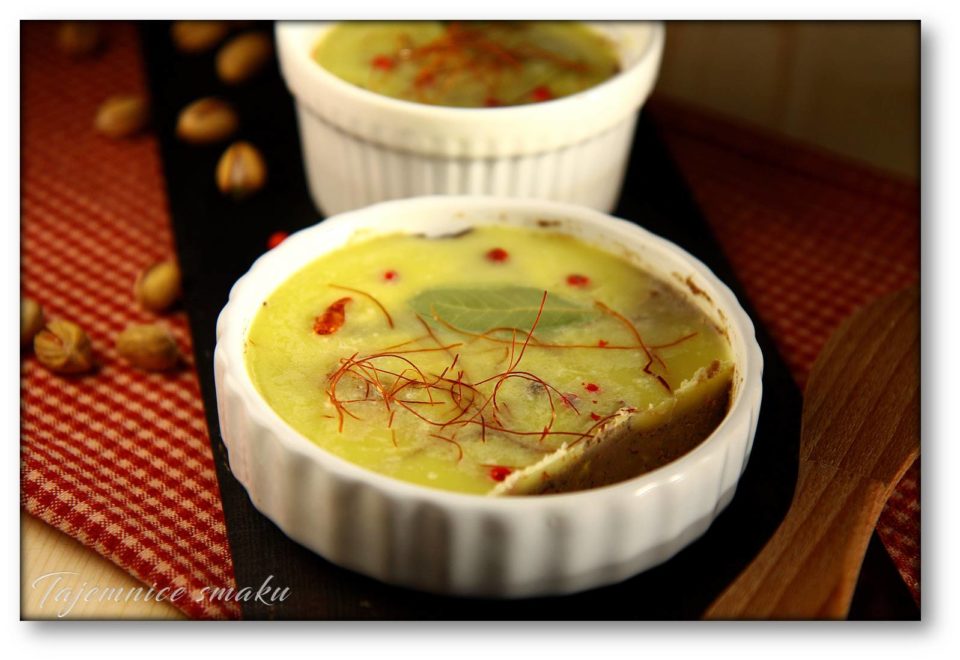 Ingredients
500g chicken livers
70ml Calvados*
1 onion
2 cloves of garlic
bay leaf
1 small dried peperonchini chili pod
1 tbsp olive oil
1 tablespoon clarified butter + 2 tablespoons for decoration
1 teaspoon dried thyme
50g peeled pistachio nuts
salt, pepper
pinch of nutmeg
100g butter
Execution
Heat 1 tablespoon of clarified butter and olive oil in a frying pan, add diced onion, fry over low heat for a few minutes, making sure that it is just translucent.
Add crushed garlic, peperonchini pod, bay leaf. Fry for another minute, increase the fire and add the liver, frying it until golden.
At the end of frying, add calvados and set it on fire... that is flambé :-) Gently shake the pan until the alcohol burns out.
And here's a note: CAUTION!!! It's best to light it with a long wooden match!
Take out the bay leaf and... PEPERONICZINI! Unless we are not afraid of "fire" :-)
Season with salt, pepper, thyme and nutmeg.
Put the whole thing into a blender, mix until smooth, try and possibly season it according to your preferences.
At the end, add the butter cut into pieces (100g) and mix until a velvety consistency is obtained.
Pistachios finely chop and add to the still warm pâté, mix gently.
Put the mass into molds, jars, bowls.
Heat the remaining 2 tablespoons of clarified butter and pour a very thin layer on top of the pâté.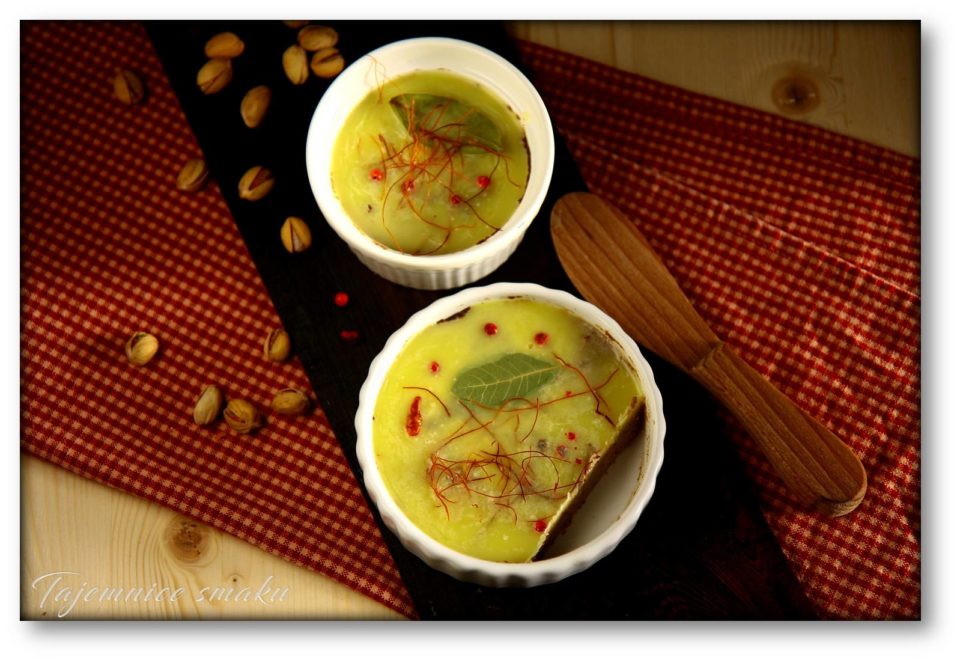 After it cools down, put it in the fridge, preferably overnight.
*Calvados - dry French brandy obtained from cider.
Save< /span>
Save< /span>
also check
Comments