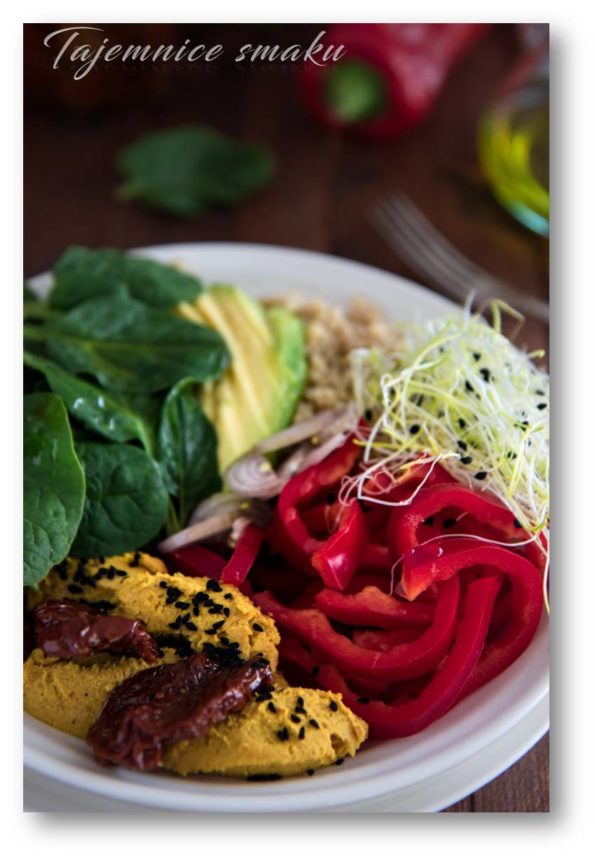 Recipe for
hummus with dried tomatoes
, it turned out to be one of the best for homemade chickpea paste. Two cans of chickpeas came out pretty good. It is known that it is a home-made product, short term, so it would be good to consume it in a few days.
What can you eat hummus with?
Hummus is a great addition to bread, pita bread, crackers, vegetables or just salads. The most delicious is the one prepared at home and seasoned in your own way.
This salad is only a proposal and it was made of ingredients that happened to be in the fridge. I believe in your creativity and would love to use other ideas for using hummus.
Ingredients
5-6 tablespoons cooked quinoa white
1/2 sliced ​​avocado
a handful of spinach leaves
1/2 shallots, sliced ​​into feathers
1/2 red pepper, sliced ​​into strips
2 tablespoons hummus with dried tomatoes
lemon juice
2 tablespoons of olive oil
salt and pepper to taste
black cumin seeds
2-3 sun-dried tomatoes
alfalfa sprouts
Execution
Arrange the ingredients for the salad on the platter.
Season vegetables with salt and pepper, sprinkle with lemon juice.
Pour the whole with olive oil, sprinkle with black cumin and decorate with alfalfa sprouts.
Enjoy your meal!
also check
Comments