<! - wp: image {"align": "center", "id": 1462, "className": "is-style-default"} ->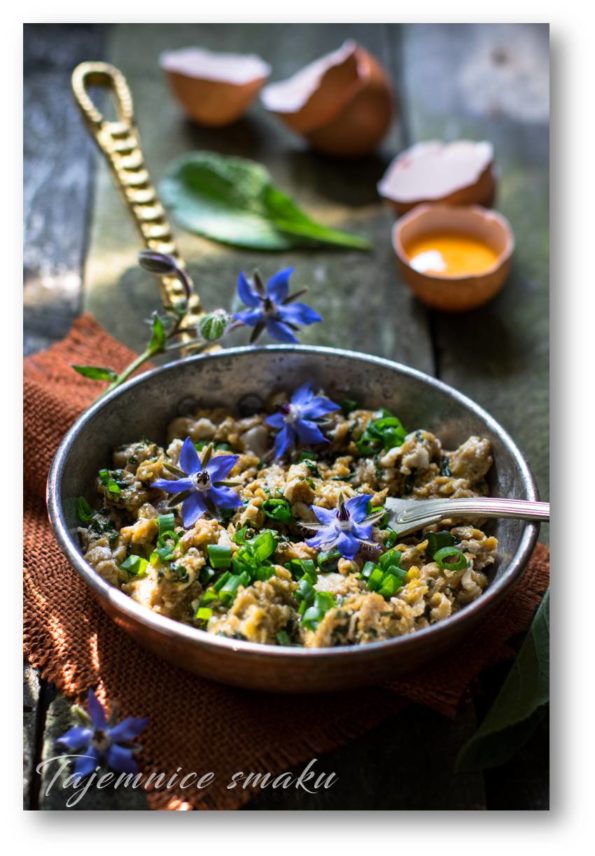 <! - / wp: image ->
Borage is a lovely garden plant with beautiful little blue flowers. It is a spice, medicinal and ornamental plant. The flowers and young leaves are edible, and they taste and smell like cucumbers.
Borage is an old herb known at least since Roman times. In the Roman Empire, its flowers and leaves were added to the wine of soldiers before battle, which was to stimulate their bravery. It was with the Roman legions that borage made its way to Northern Europe. *
Borage is worth growing in home gardens, as a culinary herb, but also because bees love flowers, giving excellent honey.
Ingredients
some young borage foxes
1 tablespoon of butter
3 eggs
chives
borage flowers for decoration
salt, pepper
Execution
Wash, dry and cut borage leaves into thin strips. Put the butter in the pan, melt it until it starts to foam. Add chopped borage leaves and fry for about 2-3 minutes. Then add the eggs to the pan, season with salt and pepper and mix gently. Fry the scrambled eggs until you get your favorite texture. Remove the pan from the heat, sprinkle with chopped chives and decorate with edible borage flowers. We serve it immediately, on a plate or directly from the pan.
Enjoy your meal!
* https://atlas.roslin.pl/
also check
Comments