Baba Easter jelly with chicken and turkey. Jelly in the form - a tasty and decorative idea for the Easter table
We associate Easter with eggs, white sausage, sour soup, mazurkas and sweet yeast cakes. If we have a baby mold, we can make a cake, but this time not sweet. Jelly served in this form can be a tasty and at the same time decorative element of the Easter table.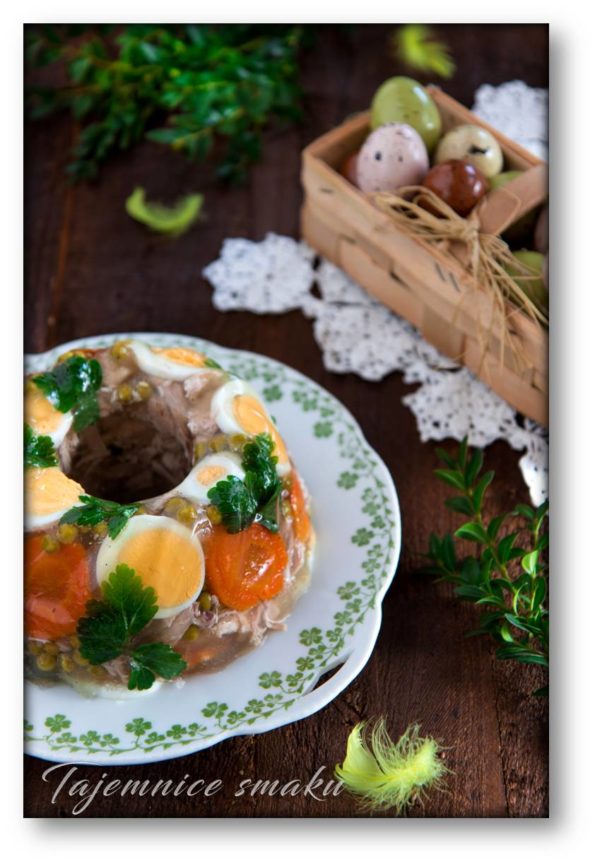 To prepare the jelly baby, I used a mold with a capacity of about 1 l and several smaller bowls.
INGREDIENTS
DECOCE
500 g turkey broth portion - necks, wings, body
500 g of chicken thigh fillets
2 large carrots
1/2 celery, root
2 parsley, root
3 cloves of garlic
1 onion
1 le
3 bay leaves
3 grains of allspice
10 peppercorns
2 liters of water
1 tablespoon of balsamic vinegar
salt
pepper
50 g of gelatin
DECORATION
3 hard-boiled eggs
1 bunch of parsley
1 can of fine canned peas
oil to lubricate molds
EXECUTION
Meat, peeled vegetables, spices pour cold water, bring to a boil, then reduce the heat and cook for about 2 hours.
Season with salt and pepper.
Meat and vegetables are washed and cooled.
Strain the decoction through a fine sieve, bring to a boil, add gelatine, season with balsamic vinegar.
Grease the jelly molds with oil.
Peel the meat from the bones, shred it and put it into molds or bowls.
Decorate with slices of boiled egg, boiled carrot,  parsley and peas.
We put them in layers and remember that what we put on the bottom will be on top when placed on a plate.
Gently pour the cooled decoction with gelatin into the molds.
Put the whole thing in the fridge to set.
Before serving, the mold can be immersed in hot water for 2 seconds to make it easier to remove the jelly onto the plate.
also check
Comments