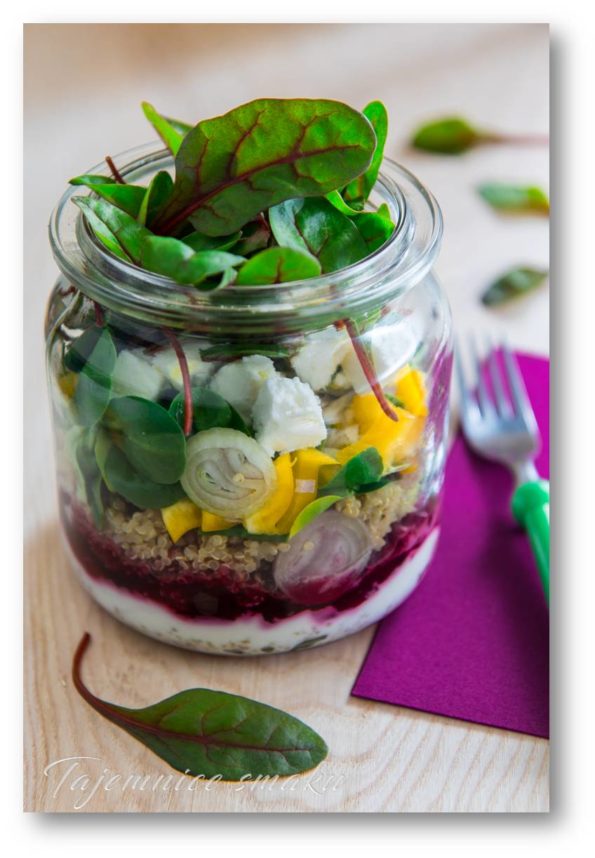 Salads in a jar are no longer a novelty and some consider them a fad. You also need a long fork to get to the bottom of the jar... that's true. But to take a layered salad like this to work, we need to pack it in something. We can use various containers with tight lids, lunch boxes, but it looks best in a jar...
There is a risk...be careful not to break the jar on the way!
Ingredients for 2 1l jars
BEETS IN MARINATED
300 g of boiled or baked beets
2 tbsp olive oil
2 tbsp balsamic vinegar
1 teaspoon of honey
salt, pepper
OTHER INGREDIENTS
16 tablespoons cooked quinoa

8 tablespoons of plain yogurt

2 handfuls of lamb's lettuce

1/2 yellow pepper cut into strips

1/2 shallot, sliced

100-150 g goat cheese (feta type) diced

2 handfuls of red mangold leaves (leaf beets)

1 tbsp olive oil

1 tbsp lime juice

salt, pepper

Execution

Peel the beets, cut into cubes (about 1 - 1.5 cm). Mix the marinade ingredients together, pour over the beets and marinate for at least 30 minutes. As longer as better. Before arranging the salad, drain the beetroots, do not pour the marinade.

Lay the layers in order - ingredients for 1 jar:

4 tablespoons of quinoa

4 tablespoons of natural yoghurt, gently season with salt and pepper

150 g of pickled beetroot

4 tablespoons of quinoa, pour half of the beetroot marinade

a handful of lamb's lettuce

yellow pepper

shallot

goat cheese

drizzle olive oil and lime juice

a handful of leaves - red mangold

Enjoy!
also check
Comments