<! - wp: image {"id": 2707, "sizeSlug": "medium"} ->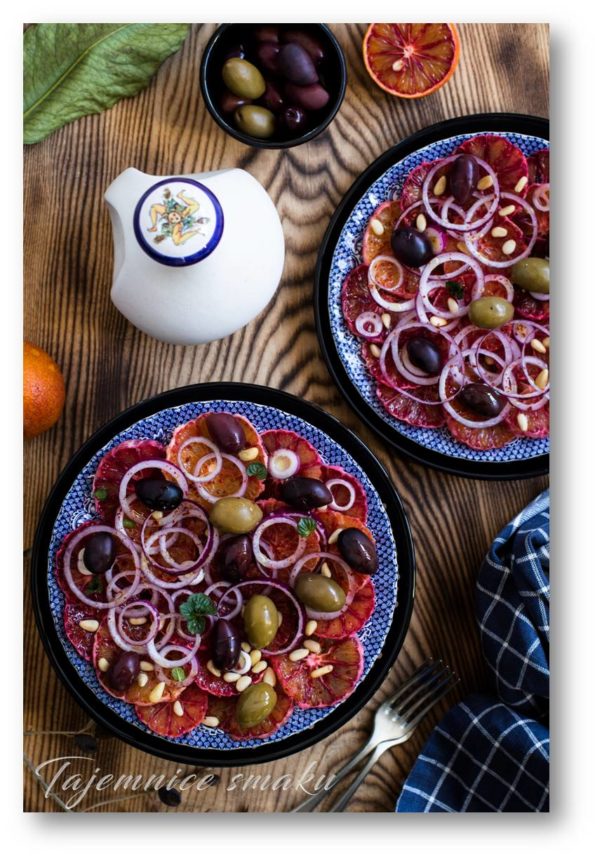 <! - / wp: image ->
A very quick and tasty salad of oranges, olives and onions. I have red, juicy and blood-red oranges straight from Sicily. Kalamata olives with stone from Greece, recipe from... "Middle Eastern bazaar" by Sabrina Ghayour. *
The salad is easy and quick to make. Refreshing and colorful, and it looks just like that orange carpaccio.
Ingredients
4 oranges
1 red onion
2 handfuls of olives
a handful of pine nuts
a few mint leaves
2 tablespoons of olive oil
2 pinches of chili
salt
pepper
Execution
Peel the oranges and onions and cut them into slices. Spread the orange slices on two plates. Season with salt and pepper. Salad we can also prepare it on one bigger plate.
Put red onion rings on the oranges, then olives, pine nuts, and chopped mint leaves. Sprinkle the whole with olive oil olives and sprinkle with a pinch of hot chili pepper. We serve immediately.
Enjoy your meal!
* Recipe from the book "Bazaar" by Sabrina Ghayour , authors of the well-known books "Sirocco" and "Persiana".
also check
Comments