Sweet, spicy and slightly bitter orange and chilli jam. An excellent addition to cheeses and more.
Spicy orange and chilli jam - orange and chilli chutney - is a great addition to all cheeses: yellow, blue and cottage cheese.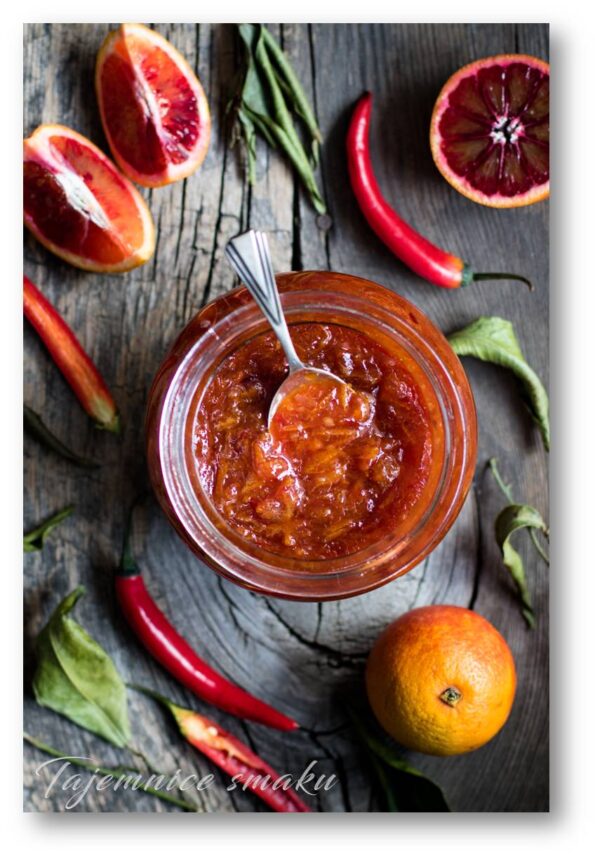 Sweet, spicy and slightly bitter, this is the jam made of oranges, hot and sweet peppers. We can use it to marinate grilled meats, it is also a great addition to toast, sandwiches and burgers. It's sweet, slightly spicy and bitter and... very delicious!
Spicy orange and chilli jam can also be used as a filling for savory cheese cookies.
INGREDIENTS
1.5 kg of oranges (preferably organic, unsprayed - I recommend red oranges)
1 red sweet pepper, about 200 g
3 - 4 chili peppers about 100 g
juice of 1 large lemon
200 ml of water
125 ml apple or cider vinegar
700g of sugar
EXECUTION
Peel the oranges very thinly (no white albedo).
Slice the peeled skin into thin strips, the so-called julienne.
Peel the oranges from the remaining white skin, cut into pieces and remove the seeds.
Slice the peppers in half and remove the seeds.
Finely chop the chili, cut the sweet red pepper into small cubes.
Pour water and vinegar into the pot, add peppers, orange peel and lemon juice.
The whole thing boils, as soon as it boils, we reduce the fire and simmer for about 5 minutes.
Add sliced ​​oranges and sugar.
Cook over medium heat for about 2 hours until desired consistency is obtained.
Put the hot jam into sterilized jars and close tightly immediately.
We put the jars upside down until they cool down.
We can also pasteurize jam in jars.
also check
Comments