Sweetly spicy chilli jam - red or green. Homemade preserves - paprika jam with chili and sweet paprika
Sweetly spicy paprika jam can be prepared in red, green and even yellow versions. Paprika jam goes well with cheeses, both the yellow ones and with cottage cheese or feta cheese. It will also be an interesting addition to grilled meats or vegetables. I often make myself a quick, delicious and, thanks to the addition of jam, a unique sandwich. I smear a slice of bread with butter, cover it with cheese or ham and spread it with sweet and spicy jam - heaven in my mouth.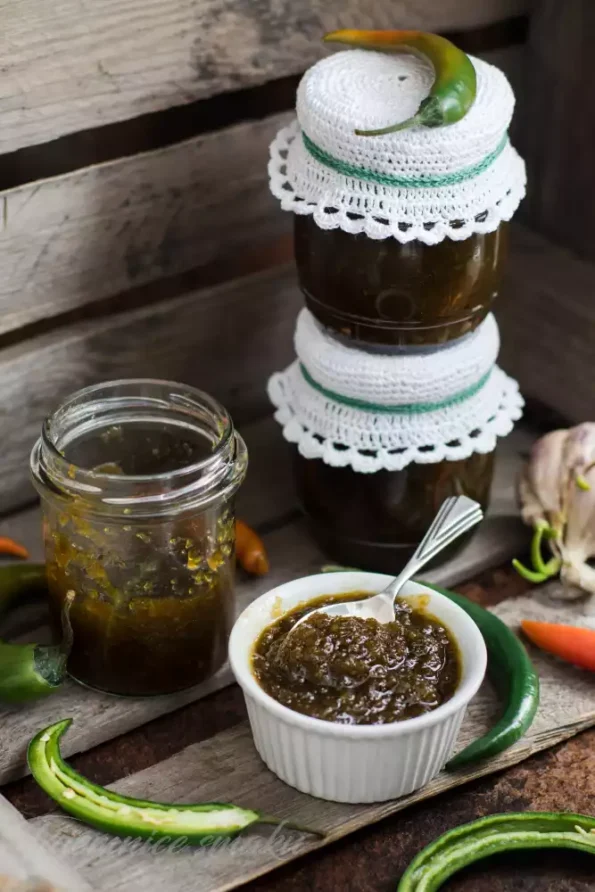 Chili jam, where did the idea for such a product come from? It started with a recipe for a mountain omelette from one of Jamie Oliver's books. The omelette looked very appetizing, the recipe was simple but one of the ingredients was red chilli jam. What kind of jam is this, where do you get it? I poked around in my pantry and it turned out that I found chili jam, but... green. It was "Green Chilli Jam" from Tracklements, which I got as a gift. I looked at their website, found the recipe, slightly changed the proportions and since then it has been a product that has permanently appeared in my kitchen.
INGREDIENTS for about 1 liter of jam
300 g green or red chili peppers, seeded and finely chopped
300 g sweet pepper, green or red, without seeds, coarsely chopped
250 - 300 ml apple cider vinegar
500 g cane sugar
50 ml of lemon juice
20 g finely grated garlic
200 g peeled and coarsely chopped onion
1 teaspoon of salt
EXECUTION
Onion, garlic, sweet pepper and chili mix briefly and pulsatingly for 3 - 5 seconds.
Heat the vinegar and sugar in a saucepan and stir.
When the sugar dissolves, add the remaining ingredients, mix and bring to a boil.
Cook on low to medium heat for about 30 - 40 minutes, until the mixture thickens slightly and reaches the consistency of not very thick jam.
Pour the hot pepper jam into small jars and close the lid immediately.
Jam jars can be pasteurized. Pasteurization in the oven - put the jars on a baking sheet and place them in a cold oven. We set the oven to 130 ° C for 60 minutes. Then turn off the oven and leave the jars in it to cool down, I leave it overnight.
also check
Comments