Easter salad in jars, on plates or in a bowl
Potato and egg salad with yoghurt and mayonnaise sauce with onion and marinated boletes is my proposal for a delicious Easter dish. It is very easy to make and can be served in various ways.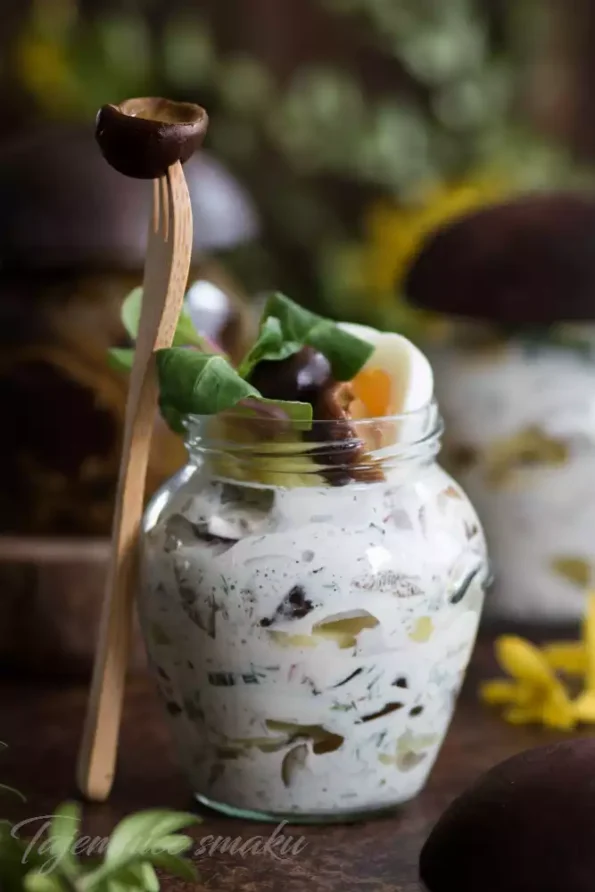 One salad, three serving options: in jars, in a large bowl or on several plates.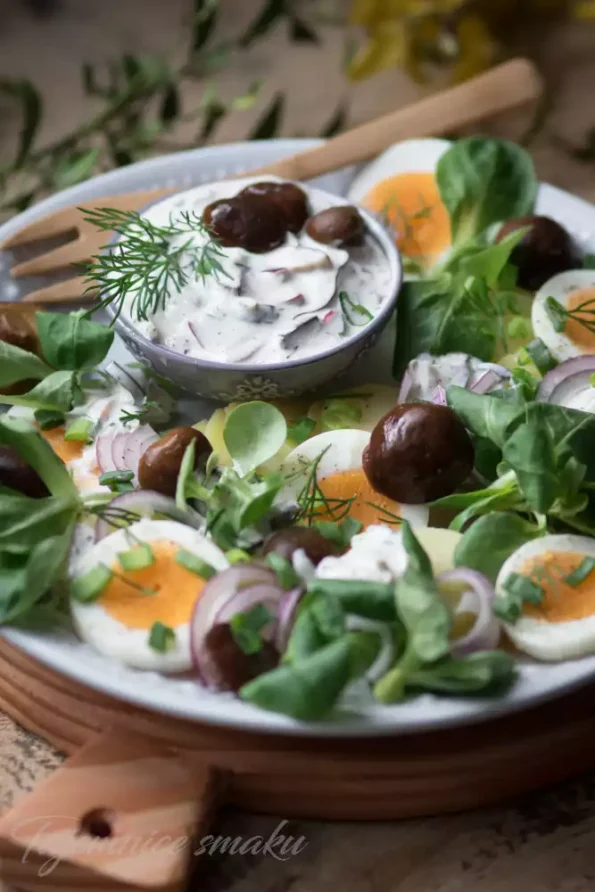 It looks beautiful spread out on plates with a large portion of lamb's lettuce. A great idea is also to prepare the salad in individual portions in jars. I recommend pickled bolete jars with a decorative wooden lid.*
INGREDIENTS
500 g of salad potatoes
5 - 6 eggs
1 red onion
150 g of marinated mushrooms - I use boletes Forest Treasures
3 tablespoons of mayonnaise
4 tablespoons of thick natural yogurt
a teaspoon lemon juice
salt
pepper
a tablespoon of chopped herbs - dill, chives
salad for decoration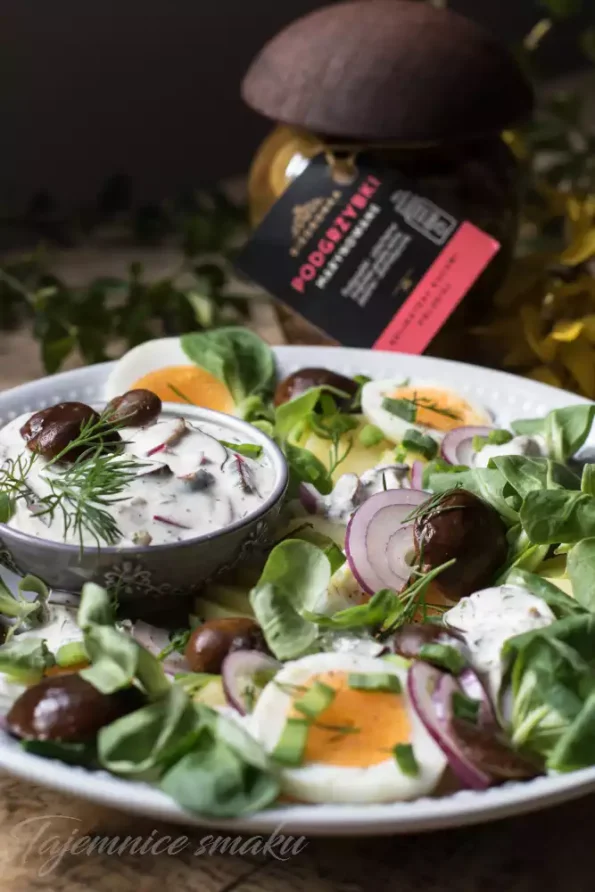 EXECUTION
We cook potatoes in their jackets, i.e. unpeeled. Just wash and scrub them well before cooking. For me, the best are steamed. Cool the boiled potatoes and remove the skin with a small knife. Cut into thin slices.
Cook hard-boiled eggs (8-10 minutes), after cooking pour cold water, cool and peel. Cut into slices, preferably with an egg slicer.
Cut the peeled onion in half and cut into small cubes or feathers. Drain the mushrooms from the brine and cut into thin strips. Some of the prettier boletes are left whole for decoration.
We are preparing the sauce. In a bowl, mix mayonnaise with yogurt, add lemon juice, salt, pepper, mix. At the end, add chopped herbs and chopped boletes, mix gently, try and season if necessary.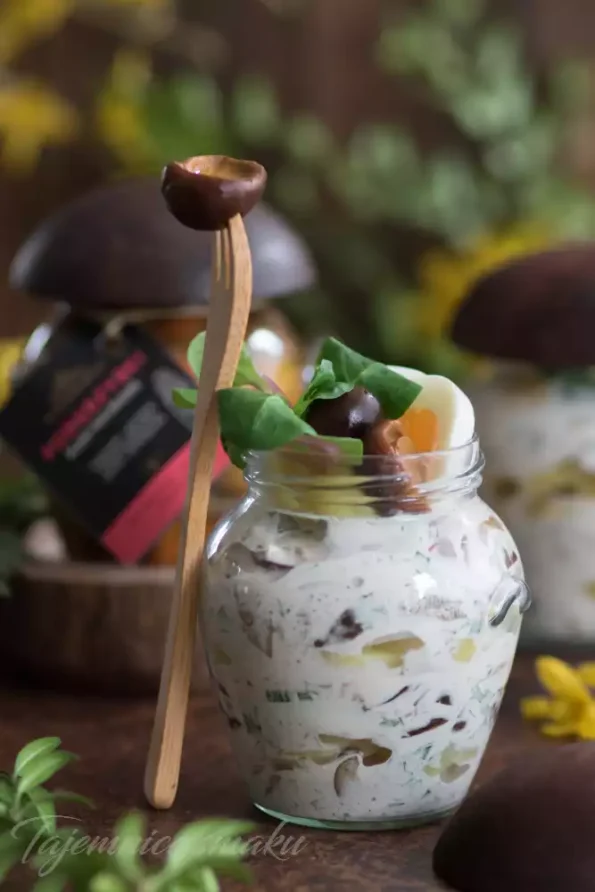 The salad can be served in three ways:
1. In a large bowl, put slices of potatoes, eggs alternately in layers, season with salt and pepper and put some of the sauce. How many layers there will be depends on the size and shape of the bowl, it is important to distribute the sauce in proportion to the ingredients and that the last layer is the sauce. Before serving, decorate the bowl with fresh greens, e.g. lamb's lettuce, whole mushrooms, egg, etc.
2. In jars or glasses, in which, just like in a bowl, put all the ingredients of the salad in layers. Close the jars and put them in the fridge. Before serving, decorate with lamb's lettuce and whole mushrooms and each guest gets their portion.
3. On a large platter or several smaller plates. I really like this form because we can serve a lot of greens together with the salad ingredients, in this case lamb's lettuce. Store potatoes and eggs tightly closed in glass containers in the fridge, and the sauce in a jar. Before serving, place slices of potatoes and eggs on plates, cover generously with lamb's lettuce, add whole mushrooms, and serve the sauce in a nearby bowl.
One salad, three serving suggestions, which one do you choose?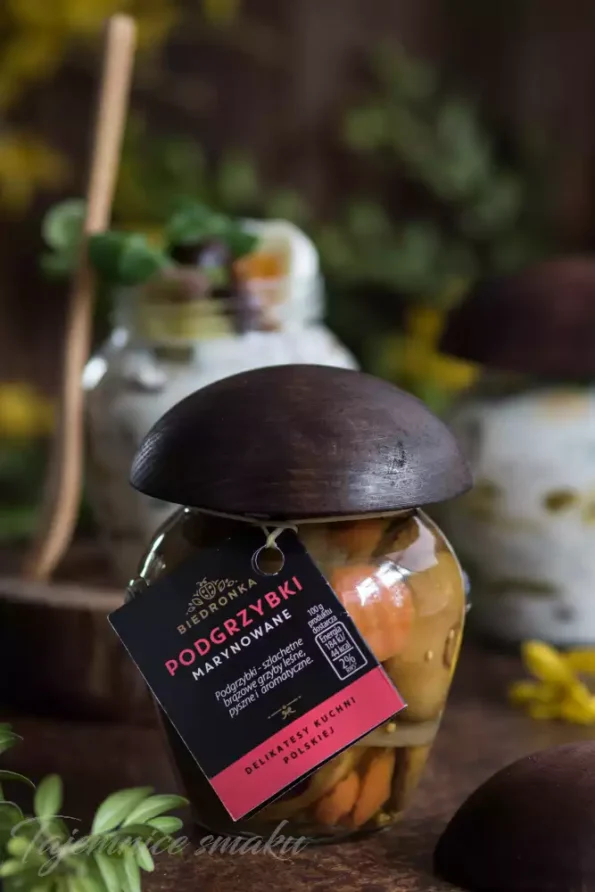 *Pickled boletes, chanterelles and butter mushrooms "Forest Treasures" in charming mushroom jars can be found on store shelves in Biedronka.
Cooperation - Forest Treasures
also check
Comments