White asparagus according to Jarzynova - fried asparagus, served with orange Beurre Blanc sauce
How do you prepare and serve white asparagus? For me, they are usually boiled in water and served with breadcrumbs browned in butter.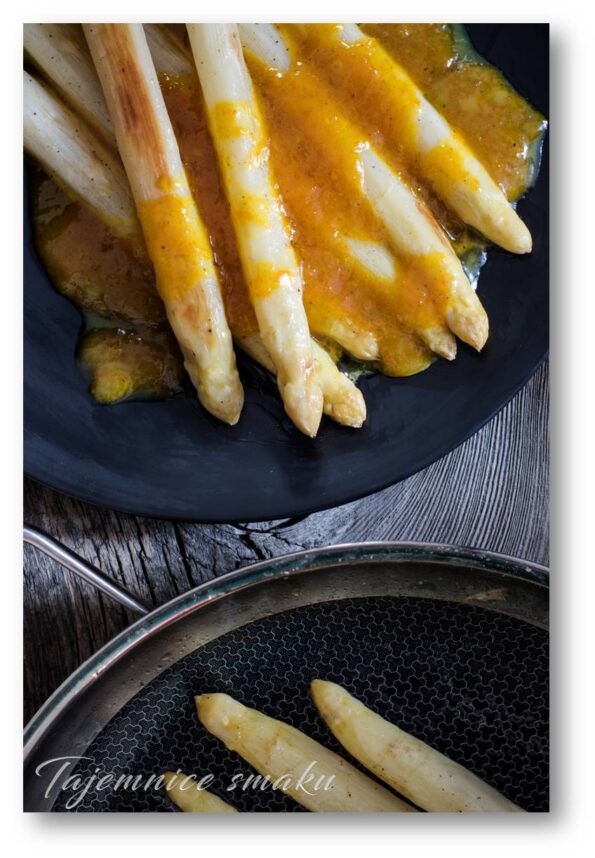 Everybody liked such asparagus with breadcrumbs and there was no reason to change it. It probably would have been like this until now if I hadn't seen Dominika Wójciak, or Jarzynova, white asparagus in a wonderfully pink sauce. The curiosity of the taste took over and on the same day I prepared asparagus. My sauce is orange because that's what I had fruit. Next time I'll make the blood orange sauce. I am very curious if a different variety of orange, apart from the color, will also affect the taste?
Ingredients
ASPARAGUE
a bunch of white asparagus
1 tablespoon of butter
salt
white pepper (can also be black)
ORANGE BUTTER SAUCE
peel of 1 orange
Juice of 2 - 3 oranges
1 tsp honey mustard (I used Dijon)
salt
pepper
100 g of butter
Execution
ASPARAGUE
Peel the asparagus, starting 2 - 3 cm below the head. The heads are tender and tastiest, so keep them whole. Cut the tough end about 2cm from the bottom of the asparagus. Place the prepared asparagus in a pan with a tablespoon of butter, season with salt and pepper. White asparagus likes slow stewing in butter. We start to heat the whole thing over medium heat so that the asparagus is slightly browned. We make sure that the butter does not burn. When the asparagus is browning, reduce the heating power and simmer the asparagus covered for about 5 - 10 minutes, until it softens. Thanks to this method, the asparagus will cook in its own juice and will not be watery.
ORANGE BUTTER SAUCE
In a wide saucepan, place grated orange peel and juice. We heat the whole thing until the juice evaporates to 1/4 of its original volume. Add 1 teaspoon of mustard, some freshly ground pepper and a pinch of salt to the juice. Stir until a uniform sauce.
Keep the sauce on low heat and, stirring all the time, add a piece of cold butter, distributing it in the warm sauce. We screw the butter into the sauce until it becomes a glassy, ​​thick consistency.

Put the asparagus on a platter and pour the orange butter sauce over it.


also check
Comments