Korean style pickled pumpkin. Homemade preserves - pumpkin kimchi
What is kimchi? Kimchi is a traditional Korean pickle usually consisting of cabbage, turnips, cucumber and gochugaru. Gochugaru, or Korean chili powder, or rather in small flakes (gochu - chili pepper, garu - powder). Gochugaru flakes can be really spicy, and they have a sweet, slightly smoky flavor.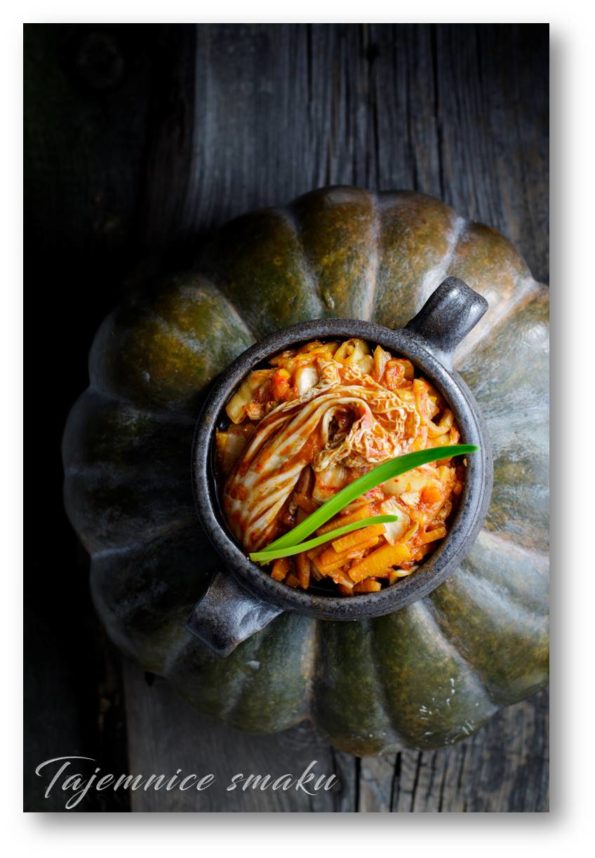 There are over 200 types of kimchi in Korea, and each has its own family favorite recipe. This means that when preparing kimchi, we can always experiment and discover new flavors.
Ingredients
KIMCHI
1 kg of pumpkin
1 kg of Chinese cabbage
2 - 3 liters of water
3 tablespoons of salt
KIMCHI PASTE
200 ml of water
2 tablespoons of rice flour
1 tablespoon of sugar
100 g fresh ginger
3 cloves of garlic
20 g gochugaru
1 tbsp soy sauce
1 tablespoon fish sauce (in the vegan version omit i replace with soy sauce)
bunch of speech bubbles
1/2 white radish
EXECUTION
Slice the Chinese cabbage in half lengthwise and chop (not too thinly).
Slice the peeled pumpkin into thin slices, and then into sticks, the so-called julienne.
Put the cabbage and pumpkin into a large bowl, sprinkle with salt and pour water to cover.
We mix and, if possible, load it (I put a round wooden board and put a jar/jars with water on it), let it rest for about an hour.
While the cabbage and pumpkin macerate, prepare the kimchi paste.
Boil 200 ml of water together with rice flour, keep stirring until a gruel forms, add sugar and leave it to cool down.
To the cooled gruel, add grated ginger and garlic, gochugaru peppers, soy sauce and fish sauce, mix.
Slice the peeled white radish into thin slices and then into strips, the so-called julienne.
Cut the spring onion into 2-3 cm pieces, diagonally.
Drain the soaked cabbage and pumpkin thoroughly from the brine, add kimchi paste, radish, chives and mix everything thoroughly. I recommend wearing gloves for this activity.
Put the mixed vegetables into a large jar or stoneware.
We load it (e.g. with scalded stone), cover it and leave it for about 3 - 5 days at room temperature.
During pickling, we try, if the kimchi is sour enough for us, we put it into smaller jars and put it in the fridge to stop the fermentation process.
also check
Comments