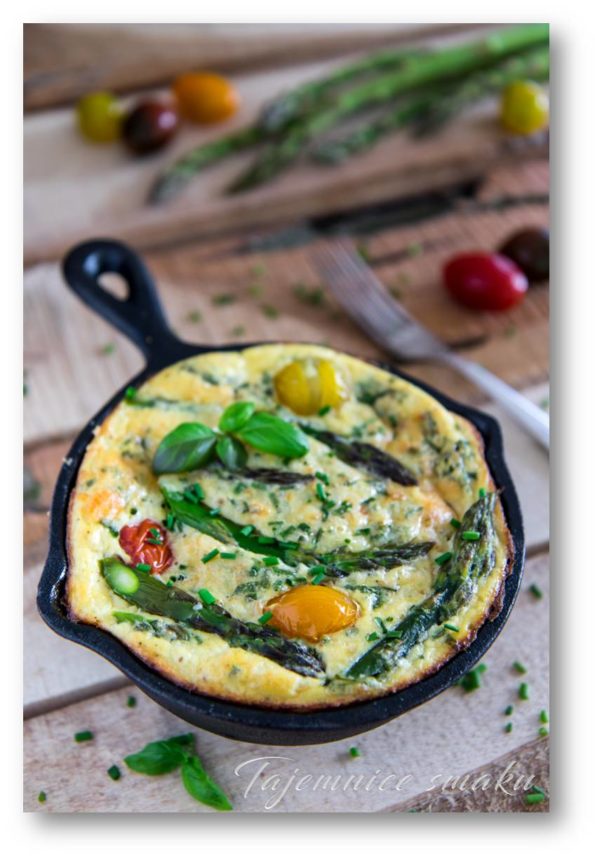 Frittata is a universal dish, it's an idea for a simple, quick and filling breakfast, lunch and dinner. The base of the dish is eggs, the addition can be any ingredients that we have in the fridge. By the way, we can prepare a dish in the spirit of zero waste and nothing will be wasted!
Frittata can be prepared in a cast-iron pan or other pan that can be fully inserted into the oven. A frying pan with a detachable handle will also work well.
We can blanch the asparagus briefly, but we don't have to. If we like crispy, al dente asparagus, we skip blanching.
Ingredients
1 bunch of green asparagus
250 ​​g cherry tomatoes
6 eggs
150 g of smoked cheese, grated
3 tablespoons of Greek yogurt
1 tablespoon Dijon mustard
1 tablespoon chopped chives
1 tbsp chopped fresh basil
2 tablespoons of olive oil
salt, pepper
Execution
Blanch the green asparagus. In a pot, boil salted water and asparagus clean and cut off the hard ends. Get a bowl of cold water ready ice cubes. Add the asparagus to the boiling water and cook for about 2 minutes minutes, then use a slotted spoon to take them out and quickly put them in ice water.
Crack eggs into a bowl, add Greek yogurt, mustard, mix with a whisk until the eggs are combined with the yoghurt. Add 3/4 of the grated smoked cheese to the mass, chives, basil, season with salt and pepper.
Preheat the oven to 190°C.
Cut the asparagus into smaller pieces, put the heads aside. We warm up olive oil in a pan (cast iron or other that can be put in the oven, e.g. z detachable handle), fry the pieces of asparagus for a minute, pour the whole thing with the egg mass and cook for about 3 minutes over medium heat. Spread the ends on top asparagus, cherry tomatoes, sprinkle with the remaining cheese and carefully put the pan in the oven. Bake until the frittata is set, approx 10 - 12 minutes.
Enjoy
also check
Comments