Mexican mole sauce with turkey, rice and avocado
Turkey in mole sauce is a quick and easy Mexican dish. We can prepare mole sauce from scratch at home, but we don't always have time for it. I recommend then to use ready-made products, especially dishes from the cuisine of the world. Mole is a very tasty and aromatic chocolate-based sauce. It has a deep, spicy and at the same time chocolate - sweet taste. Mole is a term for many dishes based on this sauce. I have turkey today, but you can prepare chicken, veal, pork and even shrimp in a similar way. I bought the mole sauce for this dish at Kuchnie swiata (Salsa Mole La Costena).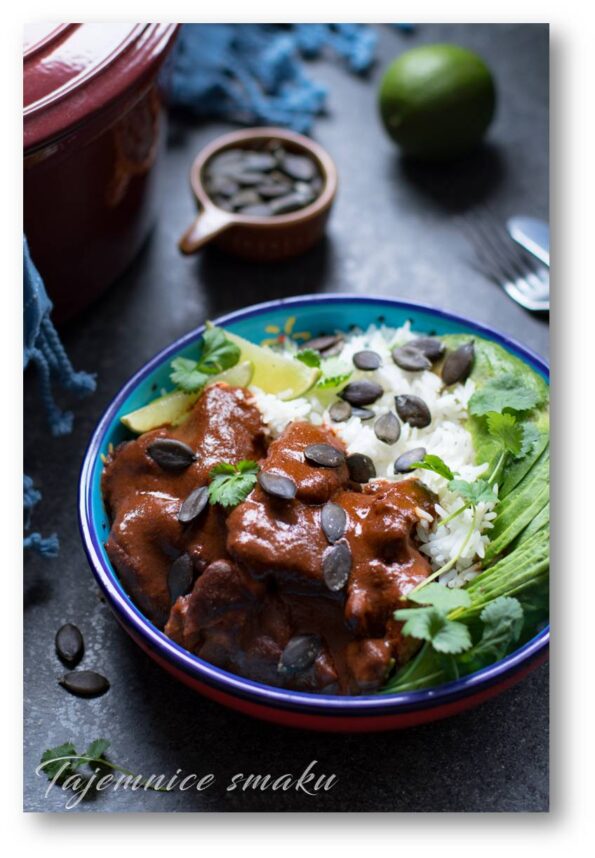 Ingredients for 4 servings
2 - 3 turkey tenderloins, about 500 g
2 - 3 tablespoons of oil
salt
pepper
Granular Garlic
1/2 jar of ready-made Salsa Mole sauce (La Costena jar 234 g)
500ml hot water or stock
1 lime
2 avocados
a handful of fresh coriander or parsley
pumpkin seeds
rice
Execution
Cut the turkey meat into strips, season with salt, pepper and dried garlic. Fry briefly in a large frying pan, in oil, preferably in two turns. We remove the meat from the pan. In the same pan, add mole sauce, hot water or broth. Cook everything over medium heat, stirring constantly, until you get a uniform sauce. We try, season with salt (if we used broth, it may not be necessary). Add the fried meat to the sauce, stir and as soon as it boils, remove from the heat.
Serve with boiled rice, 1/2 avocado, 1/4 lime, coriander and pumpkin seeds.
Enjoy!
also check
Comments