Pumpkin curry with shrimps - an aromatic and tasty dish perfect for an autumn lunch or dinner
Carry of pumpkin with shrimps - a sweet, spicy, aromatic dish - a perfect meal for autumn.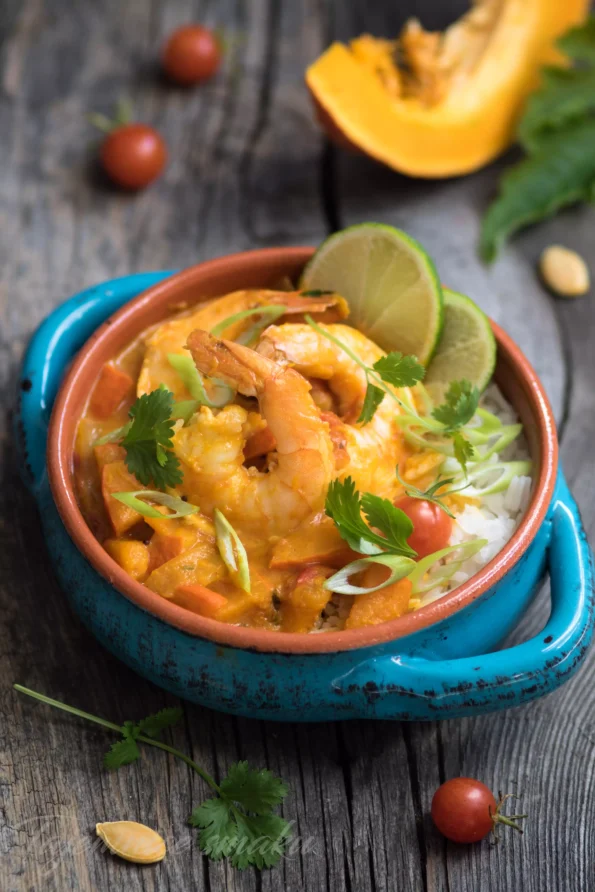 Pumpkin curry is a very versatile recipe. Curry can be prepared with the addition of shrimps, which perfectly match their taste and structure with pumpkin. If you don't like shrimp or are allergic to shellfish, you can replace them with chicken. For a vegetarian curry, use chickpeas or tofu and omit the fish sauce.
Pumpkin and prawn curry goes well with basmati or jasmine rice or Indian naan bread.
INGREDIENTS
300 g of peeled and cleaned raw shrimps (without heads)
300 g of pumpkin - Hokkaido - weight without seeds
1 onion
1 tablespoon of oil
1 tablespoon yellow curry paste
1 tsp black mustard seeds
1 tbsp sugar
salt
a pinch of chilli flakes or powder
200 ml of coconut milk
200 ml of water
3 tablespoons of lime juice
1 spoonful of fish sauce
200 g of cherry tomatoes
a bunch of spring onions
fresh coriander
cooked rice to serve
EXECUTION
Rinse the prawns in cold water and pat dry with a paper towel.
Heat the oil in a frying pan and fry the chopped onion briefly.
Add the yellow curry paste, chili flakes and black seeds to the onion. mustard seeds, fry for a while.
Sprinkle with sugar, mix and caramelize briefly.
Pour coconut milk, then water.
Add pumpkin pieces, season with salt and cook under cover, over medium heat for about 5 minutes.
Add the cherry tomatoes and cook covered for another 5 minutes.
Slice the spring onions, set aside a portion of the green part to serve.
At the end, add the prawns and most of the green onions, mix and cook uncovered for about 1 - 2 minutes, until only the prawns are cooked.
Season the curry with fish sauce, salt, lime juice, or chili.
Serve with boiled rice sprinkled with spring onions and fresh coriander.
also check
Comments