<! - wp: image {"id": 2187} ->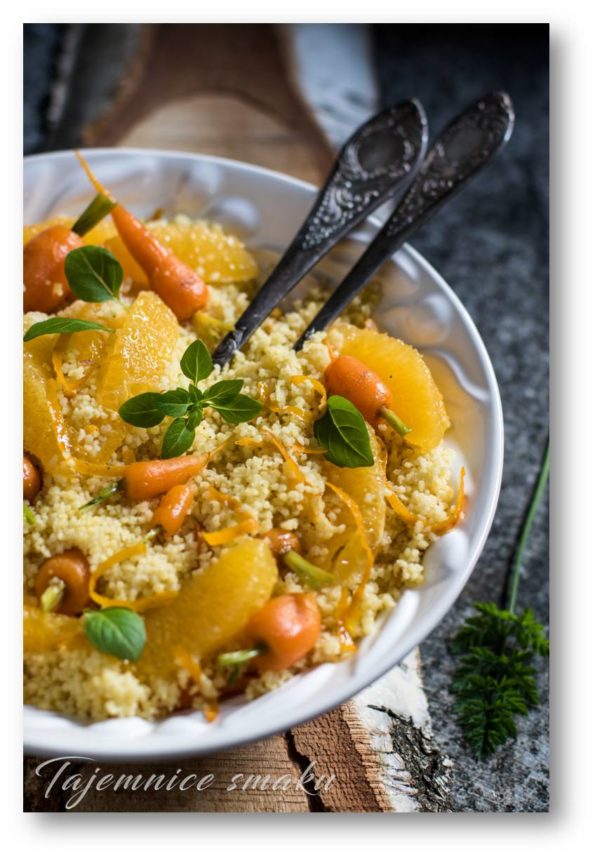 <! - / wp: image ->
Couscous in appearance it resembles porridge, but it is actually more like pasta. It consists of hard durum wheat mixed with water. It is the fastest and easiest in preparing porridge. Just pour boiling water over dried couscous, cover and after 5 - 15 minutes (depending on the type of groats) we have the dish ready.
Orange couscous with carrots can be a salad that can be served cold. Maybe also serve as a dinner supplement, hot to vegetables or meats.
Ingredients
200 - 300 g carrots
2 oranges
300 ml of hot vegetable stock or water
hot water to the couscous as needed
3 tablespoons of olive oil
a pinch of cardamom
a clove of garlic
2 tablespoons of white wine vinegar
200 g of couscous
salt
pepper
a bunch of fresh basil
Execution
Peel the carrots very thin and cut them into sticks or in slices (leave the small ones whole). FROM scrub and scald the orange, rub the peel, without the white albedo. Next Fillet the oranges - cut off the top and bottom of the fruit with a sharp knife, yes so that the flesh is visible. Place the orange vertically and cut the skin together with white albedo. Use a sharp and thin knife to cut out the prepared fruit fillets from between the white membranes. Put the fillets aside from the rest squeeze the orange with your hand.
Peel the garlic and chop it very finely or grate it.
Heat the olive oil in a saucepan and fry the carrots for about 5 minutes, stirring all the time. Then add the grated orange peel, salt, pepper, pour hot water or broth and simmer for about 15 minutes. We take out the carrots and set aside. Add garlic, cardamom, orange juice and vinegar to the remaining liquid and bring to the boil. Pour the couscous into the bowl and pour the hot mixture about 05 - 1 cm above the level of the groats (according to the instructions on the packaging), add boiling water if necessary. Cover the bowl and let it rest for about 5 minutes, then mix the groats and cool it down. Add carrots, orange fillets and basil leaves to the cooled groats, mix, season with salt and pepper if necessary.
Enjoy your meal!
also check
Comments