Roasted carrots with Mexican fruit sauce
Chamoy is a sauce from Mexico. It is prepared from pickled fruits (apricots, mangoes, plums), lime juice and chili peppers. It is salty, sweet, sour and spicy at the same time. Its unique taste affects everything it comes into contact with. We can use it not only for vegetables, but also for meat, fish and even fruit.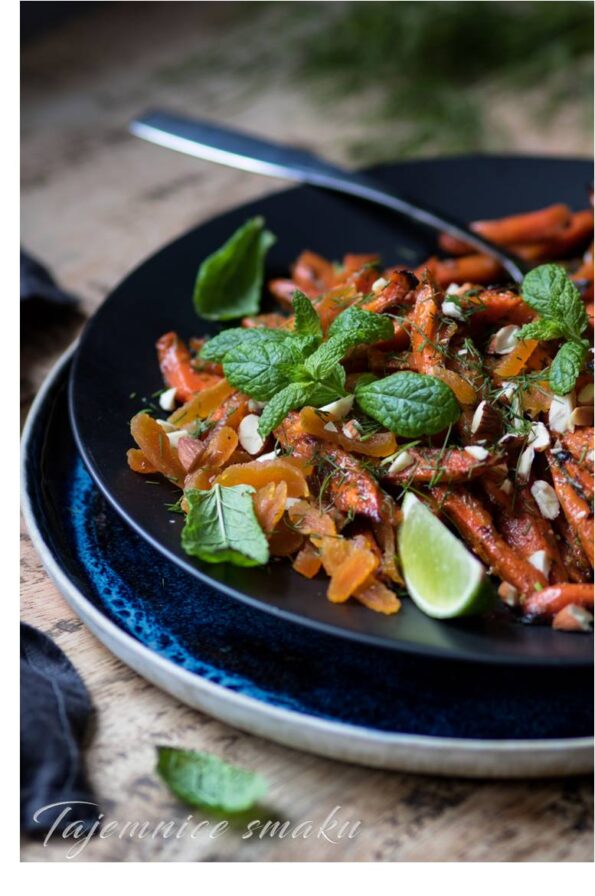 The carrot salad recipe comes from the book TASTE

Accustomed to Ottolenghi's recipes and flavors, I was not disappointed this time. Yotam just knows how to combine flavors to create an explosion of flavor on the tongue. Of course, I bought a bag of organic carrots from a local supplier.

There are several ingredients in the recipe - maple syrup, sumac, or chili flakes - which can be bought in well-stocked supermarkets or online, e.g. at World Kitchens.

Ingredients

Carrot

1 kg of carrots, peeled and cut diagonally into 1 cm thick bars

3 tablespoons of olive oil plus 1.5 tablespoons to serve

1.5 tablespoons of maple syrup

10 g mint leaves

5 g of dill, coarsely chopped

70 g of dried apricots, thinly sliced

30 g of roasted and salted almonds, coarsely chopped

salt

pepper

CHAMOY SAUCE

40 g dried apricots

 1 teaspoon of maple syrup

2 teaspoons of sumac

45 ml lime juice plus 2 teaspoons

1.5 teaspoons aleppo chilli flakes (or 3/4 regular chilli flakes)

1 small clove of garlic

2 tablespoons of olive oil

Execution

Preheat the oven to 240°C with fan.

In a bowl, mix the carrots, olive oil, maple syrup, 2 - 3 pinches of salt and plenty of pepper. Spread on an oven tray lined with baking paper. Bake for about 18 minutes, stirring the carrots halfway through. Roasted vegetables should be browned, slightly softened, but still firm.

Mix all the ingredients for the chamoy sauce and a large pinch of salt into a smooth paste.

Put the baked carrots into a bowl, add the chamoy sauce and mix well. Leave for 20 minutes for the ingredients to combine.

Mix carrots with herbs and apricots, sprinkle with the rest of the olive oil and lime juice. Sprinkle with almonds and serve.

Carrots can be served as an independent vegetarian dish, but also as an addition to meat, fish, grilled halloumi cheese or fried egg.
also check
Comments