Maltese almond cookies with egg whites or aquafaba. Biskuttini Tal - Lewż, traditional Maltese almond cookies
Biskuttini Tal - Lewż are traditional Maltese almond cookies. Lion in Maltese means almonds. The recipe for these sweets comes from the book Marhaba. Welcome to the kitchen from the four corners of the world - Piotr Ibrahim Kalwas. Almond cookies are served in Malta on the occasion of various holidays, but also without any occasion. They have their roots, like many other Maltese dishes, in Tunisia and Italy, specifically in Sicily. This recipe  is a great idea for using egg whites (also frozen), which will be left over after preparing shortcrust pastry, donuts or other baked goods with egg yolks.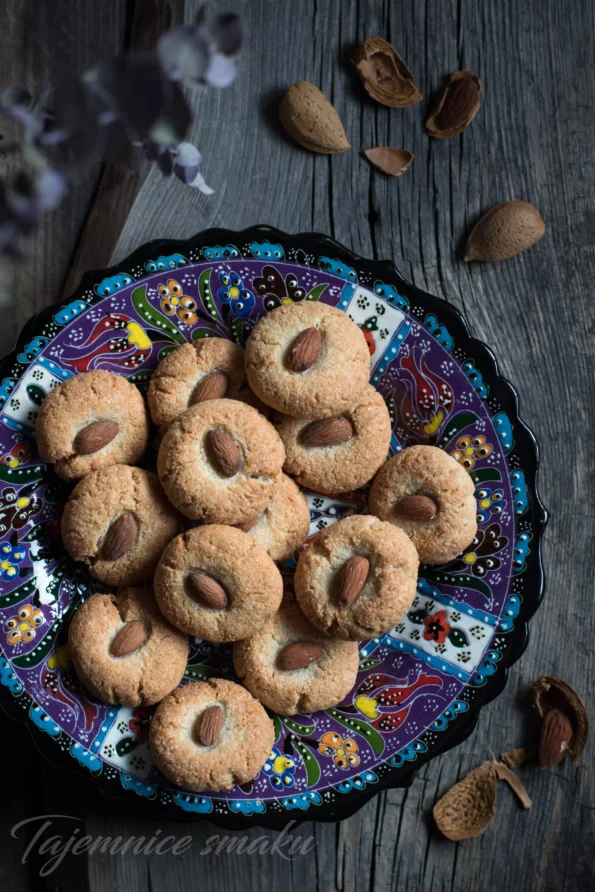 If we want to bake vegan cookies, we replace the egg whites with aquafaba, i.e. the liquid from the cooking of chickpeas. When we plan to make aquafaba from dry chickpeas, pour the beans with water and leave overnight. Then strain, pour out the water, add fresh and cook the chickpeas until soft. Pour the stock into a smaller pot and cook it for about 10 more minutes over low heat to reduce the amount of liquid. The cooled aquafaba can be whipped like egg whites. If we use canned chickpeas, it will be much faster, because it is enough to drain the seeds and we have aquafaba ready.
INGREDIENTS
2 protein or 4 tablespoons of aquafaba, i.e. liquid from cooked chickpeas
150 g of fine sugar
zest of 1 lemon or orange
1 teaspoon of vanilla essence
1 teaspoon of almond essence, I used amaretto
16 -18 whole almonds with skin, one per cookie
EXECUTION
Whip egg whites or aquafaba into foam.
Mix almond flour with sugar, add grated lemon zest and mix again.
Add the egg foam or aquafaba and both essences, mix until you get a dough for cookies.
Take off pieces of dough weighing about 30 g from the obtained mass, form balls and place them on a baking tray lined with baking paper.
Slightly flatten each ball of dough and gently press an almond in the middle.
Put the baking sheet with the cookies in the oven preheated to 180°C and bake for about 15 - 20 minutes.
also check
Comments