Greek Paximadia cookies. Shortbread cookies, orange with almonds, olive oil and sesame. How to accidentally make green cookies...
Paximadia are delicious Greek cookies that are very similar to the well-known Italian cantuccini, i.e. biscotti di Prato. The Greek version of biscuits comes in two varieties: salty, with no added sugar, which go great with salads, soups or as a snack with a glass of ouzu or wine; sweet with a distinct hint of citrus. What they have in common is the method of preparation, they are baked twice.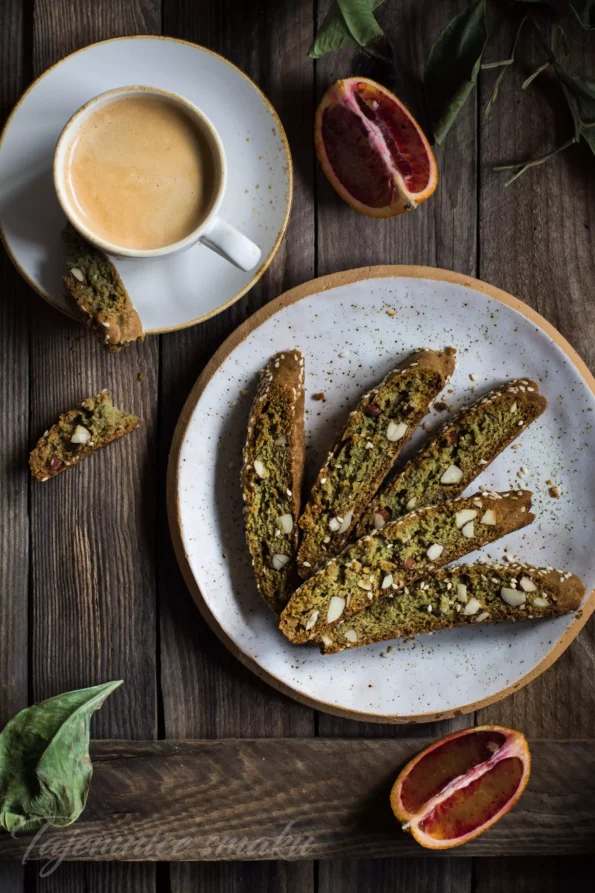 And how do you accidentally prepare sweet green paximadia cookies? Just add the squeezed juice of blood-red oranges to the dough instead of the orange ones... then the magic happens ;-)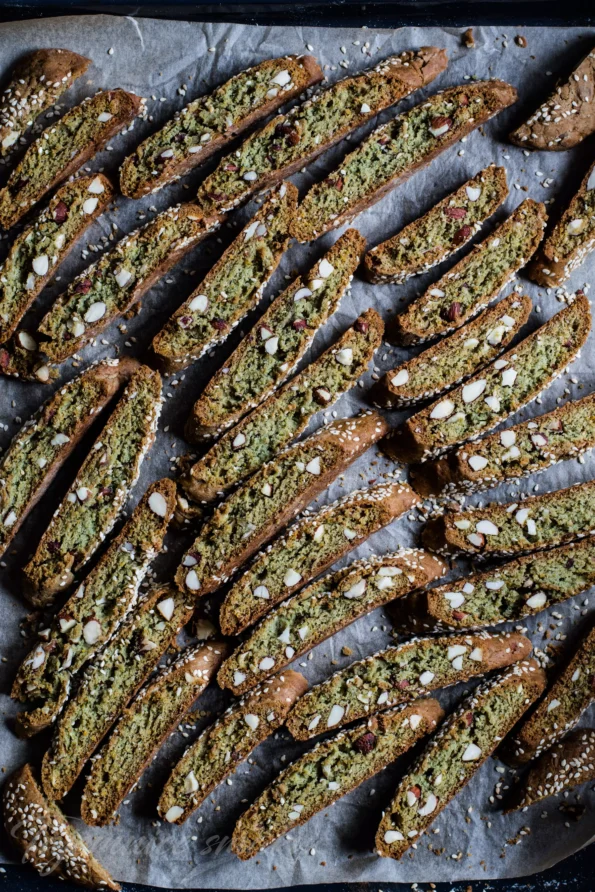 The recipe for the cookies comes from the book Kalimera. Greek cuisine of joy - Dionisios Sturis
INGREDIENTS
250g of flour
90 g of sugar
1 teaspoon of baking powder
1/2 teaspoon of baking soda
150 g of roasted almonds with or without skin
130 ml orange juice
Zest of 1 - 2 oranges
130 ml of olive oil
2 - 3 tablespoons of sesame seeds
pinch of salt
EXECUTION
Pour the olive oil and sugar into the mixer bowl, mix.
In a separate bowl, mix the flour, salt and baking powder.
Add soda to the orange juice, mix and pour into the bowl with oil and sugar.
Add flour with additives, roasted and coarsely chopped almonds and grated orange peel.
We mix everything, the dough should be thick, but not too thick.
Put the dough on a table sprinkled with flour and form two rolls.
Slightly flatten the rollers to a thickness of about 2 cm and sprinkle with sesame seeds, pressing them lightly.
Put the rolls on a baking sheet lined with baking paper and put in the oven preheated to 180°C.
Bake for about 25 minutes with convection.
Take the tray out of the oven and let it rest for a few minutes.
Cut the baked rolls of dough diagonally into pieces and place them next to each other on a baking sheet.
Put the cookie sheet back in the oven for about 10 - 12 minutes.
If you want the cookies to be harder, then bake them a bit longer.
Take the tray out of the oven.
Try the cookies when they are cold.
also check
Comments