Zaletti, zaeti or anteni - crispy yellow corn cookies with raisins soaked in grappa. Recipe for Venetian cookies with cornmeal and raisins
Zaletti cookies come from northern Italy, specifically from the Veneto region. Crispy, corn and yellow, these are the cookies. Corn flour gives the biscuits crispiness and a yellowish color, hence their name. Zaletti, in the zaeti dialect, means yellow.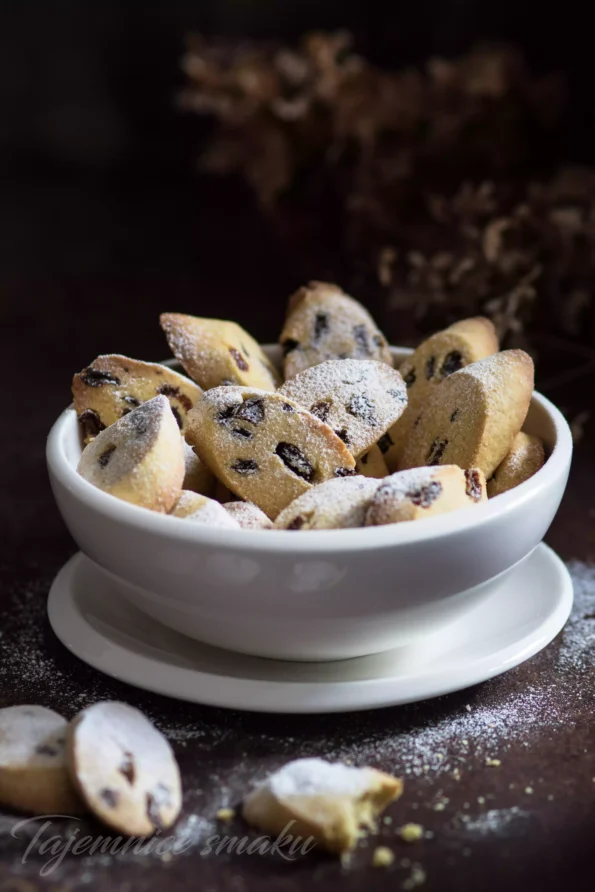 Traditionally, coarse cornmeal, such as polenta, is added to cookies. For my cookies, I added cornmeal, more fine, the kind that we can usually find on store shelves. Finer flour is not as intensely yellow as coarse flour, which is why my cookies turned out very light yellow.
INGREDIENTS
250 g cornmeal
150 g flour type 00 or all-purpose flour
5g baking powder
pinch of salt
120 g of sugar
180 g of butter
1 egg
100 g of raisins
2 - 3 tablespoons of grappa, rum or optional citrus juice
lemon or orange zest
powdered sugar
EXECUTION
Raisins pour boiling water over a sieve, then drained, pour grappa and set aside. In the non-alcoholic option, raisins can be poured with orange juice.
Mix corn and wheat flour together with baking powder and a pinch of salt.
In another bowl (preferably a mixer bowl) cream butter and sugar.
Add the egg and grated orange peel to the creamed butter and sugar, beat until combined.
Add the flour and baking powder to the butter mass and mix.
At the end, add the raisins together with the liquid, knead briefly and put the dough on the countertop or pastry board.
Knead the dough quickly into a uniform mass, this time by hand and divide it into 4 portions.
For each portion, form a roll with a diameter of about 3 cm, wrap it in foil and put it in the fridge for at least 30 minutes.
Preheat the oven to 180°C.
Before baking, rolls of dough from the fridge are cut diagonally into pieces of about one centimeter - similar to dumplings.
Place the cookies on a baking tray lined with baking paper, put in the preheated oven and bake for about 15 - 18 minutes until slightly golden.
The cookies should still be slightly soft right after baking. They will harden as they cool.
Remove from the oven and cool on a grid.
Cooled cookies sprinkle with powdered sugar.
also check
Comments