<! - wp: image {"id": 1952} ->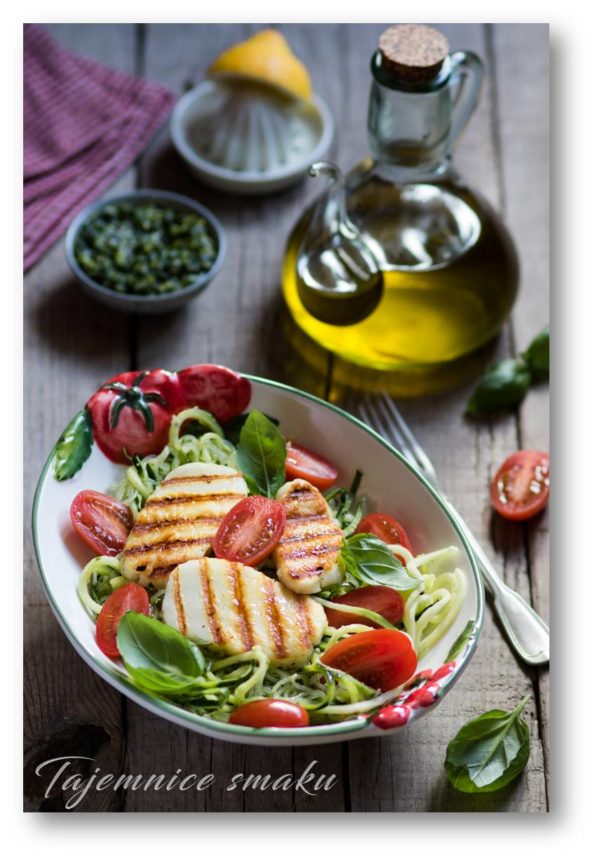 <! - / wp: image ->
Do you like kitchen gadgets? I do, and since I bought a spiralizer, I often prepare such quick zucchini noodles. This time zucchini noodles will perform in a duet with another type of noodles, namely rice noodles. To add character to the pastas, I mixed them with a sauce based on basil pesto and served with cherry tomatoes and grilled halloumi cheese.
Ingredients
1 zucchini (about 250 g)
a package of rice noodles (200 g)
3 tablespoons of olive oil
2 tablespoons of basil pesto
3 tablespoons of lemon juice
salt
pepper
200 g halloumi cheese
250 g of cherry tomatoes
a handful of basil leaves
Execution
Wash the zucchini and cut it into "noodles" with a spiralizer, sharpener or peeler to Julienne. Wash the tomatoes and cut them in half. 2 tablespoons of olive oil mix with pesto, lemon juice, season with salt and pepper.
Prepare the rice noodles according to the instructions on the package. Mix it with the drained and cooled down zucchini noodles and pesto sauce.
The halloumi cheese is fry just before serving, because after it becomes hard and rubbery when cooled. We cut the halloumi into thin slices and Fry in olive oil on both sides until golden brown.
We spread the pasta on two plates and cover it with cherry tomatoes cocktail, fried halloumi cheese and basil leaves.
Enjoy your meal!
also check
Comments