<! - wp: image {"id": 1821} ->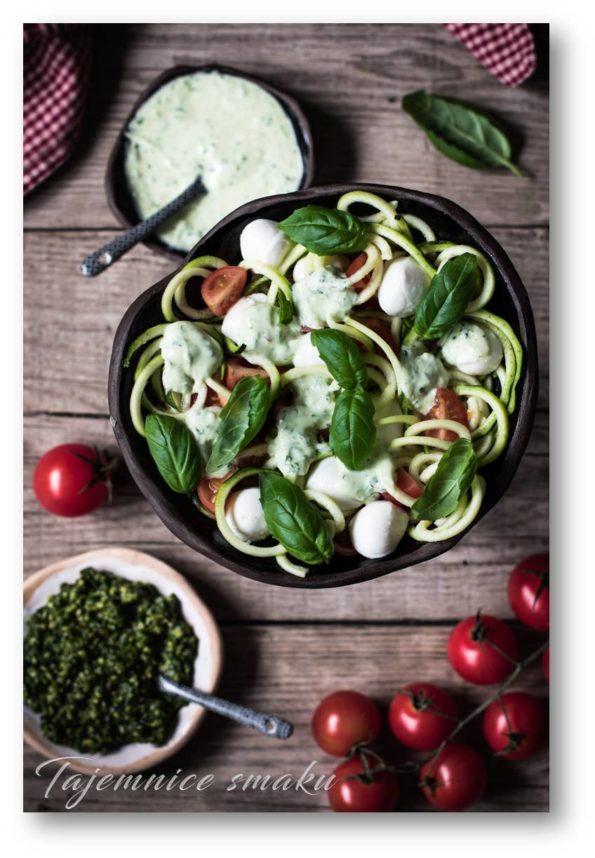 <! - / wp: image ->

Raw courgette spaghetti it is low in calories, fresh and healthy. The dish resembles pasta with side dishes, however, it is more of a salad.
To prepare zucchini noodles, we need a spiralizer or a vegetable sharpener. If we do not have such equipment, we can use graters for julienne. As a last resort, all you need is a sharp knife and a nimble hand.
Ingredients for 1 portion
200 g of zucchini
75 g mini-mozzarella
50 g of cherry tomatoes
30 ml of natural yoghurt
1 teaspoon of green pesto (basil, parsley, or kale >)
a teaspoon of lemon juice
salt
pepper
a few fresh basil leaves
Execution
Mix the pesto with yogurt, add lemon juice, Season with salt and pepper.
Cut the tomatoes into quarters, drain the mini-mozzarella from the pickle. Wash the courgette and put it through a spiralizer, sharpener or grate it on a julienne grater.
Place zucchini spaghetti in a bowl, add mini-mozzarella balls, cherry wedges. Pour the whole yoghurt sauce with pesto and add the leaves basil, season if necessary salt and pepper.
Enjoy your meal!
also check
Comments