Book "Cheese. A maturing guide for connoisseurs" - the first Polish cheese atlas
Carolina Pietyra comes from France. Cheese, wine and baguette are the basis of her menu and passion at the same time. Together with her husband Kamil Wernicki, they decided to open a cheese shop "Pod Czerwonym Kogutem" in Krakow, where they share their passion with the local community. Cheese began to attract more and more people who are extremely interested in the variety of the offer and looking for new or favorite flavors. The owners realized that they are not able to convey all the interesting information about a given cheese when shopping. So they decided to write a book in which they try to convey everything that they cannot tell during short meetings "Under the Red Rooster".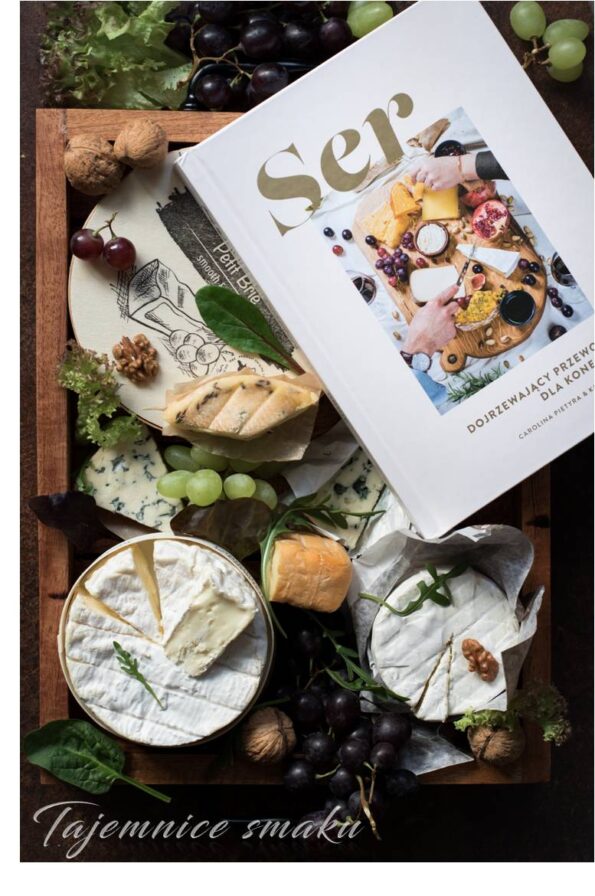 Cheese. A maturing guide for connoisseurs. This book is a primer on European cheeses and a guide to their history. Enriched with advice on how to serve, cut and store cheese and how to best pair it with wine. So we set off on a journey into the world of cheese serving and tasting. Are you familiar with cheese savoir-vivre, i.e. how to combine cheeses and with what wines to combine particular types,  what to serve as an addition? How to properly serve and taste cheeses and how to arrange them on a board? Cheeses are arranged clockwise. It starts with light and ends with heavier and more expressive in taste.
Book Ser. A maturing guide for connoisseurs is the first Polish cheese atlas. Will we learn from it how cheese was made? What is puberty all about? We will learn about the types of cheeses and their history. It is complemented by 40 recipes for dishes with cheese in the main role, and at the end of the book you will find a short lexicon of a cheese taster.
Carolina Pietyra and Kamil Wernicki passionately talk about cheeses, their origin and the tastiest cheese compositions. They are real enthusiasts who probably know everything about it. Among other things, for the purposes of the book, they went on a journey around Europe in search of the best cheeses and unobvious flavor compositions.
This maturing guide will be a great companion during meetings with friends around the cheese board, as well as a great gift idea for every cheese connoisseur and more.
Get a taste of cheese!
"Ser. A maturing guide for connoisseurs" - Carolina Pietyra and Kamil Wernicki - the book was published by Znak publishing house, to which I thank for providing a review copy.
also check
Comments