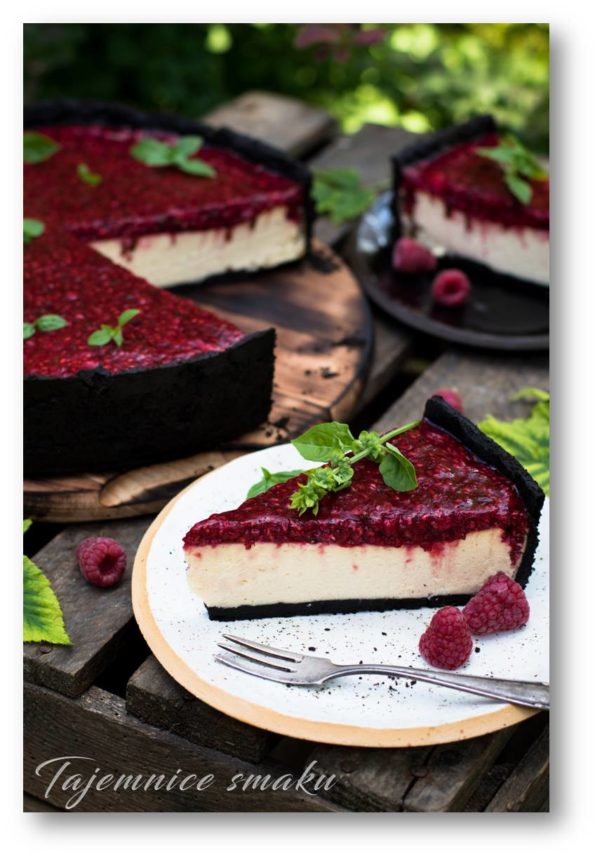 Mustard for cheesecake?... well, that's an exaggeration..
And that it intrigued me a lot and I like experiments, no I endured. Because if mayonnaise, spinach and even bacon are used in sweets baked goods, why not? I had to check what comes out of it and here it is - cheesecake with mustard. The cheesecake is very tasty, you don't feel mustard in it, but it certainly affects its taste.
Dijon mustard is the best for cheesecake, ma'am creamy consistency that perfectly matches the consistency of President's cheesecake curd with mascarpone. Two tablespoons is a perfect portion and don't be tempted to give more, because cheesecake it will be too mustard. On I gave the bottom and sides a shortcrust pastry with black cocoa, and topped the whole thing with raspberry frużeline with the addition of basil. Is delicious!
Ingredients for o form diameter 26 - 28 cm.
CAKE
220 g cake flour
30 g black cocoa
120 g of butter + a tablespoon of butter to grease the sides of the springform pan
50 g powdered sugar
2 egg yolks
Cheese mass
1 kg curd cheesecake with mascarpone President
1 sugar-free vanilla pudding
6 eggs
200g of sugar
juice of 1 lemon
2 tablespoons of original Dijon mustard
beans from a vanilla pod
RASPBERRY BASIL FRUŻELINA
500 g raspberries
a handful of basil leaves, plus a few tiny ones for decoration
80g sugar
8 - 10 g gelatin plus 4 tbsp water
2 tablespoons of lemon juice
15 g of potato flour dissolved in 2 tablespoons of water
Execution
CAKE
From flour, black cocoa, butter, powdered sugar and egg yolks make a shortcrust pastry. We wrap in foil food and put it in the fridge for about 30 minutes. Then we roll out dough between sheets of baking paper into a cake with a diameter of about 35 cm. Take off one sheet of paper and put it on the bottom of the springform pan, grease the sides butter. Place the rolled out dough in the mold, creating a high edge, the bottom prick with a fork and leave the whole thing for half an hour we put it in the fridge.
Cheese mass
Mix all the ingredients for the cheese mass, except the cheese, as briefly as possible to a homogeneous mass. Finally, add the cheese from the bucket and mix just until the ingredients are combined.
Preheat the oven to 180 °C (top - bottom).
The cheese mass  is poured into a springform pan on the shortcrust pastry base. Place in the preheated oven and bake for about 45-50 minutes. When the cheesecake is baked, let it cool down in the slightly ajar oven.
FRUŻELINA
Pour gelatin with 4 tablespoons (30 ml) of cold water, set aside to swell for 10 minutes.
We heat the fruit in a saucepan together with chopped sugar until the sugar dissolves and the fruit releases its juices. Then add lemon juice and potato flour mixed in water, mix, boil and remove from the burner. Add the soaked fruit to the hot fruit gelatin, stir until gelatin dissolves, cool.
Pour the cheesecake with the curing frużeline and put the whole thing on the 30th minutes to the fridge. Before serving, decorate with small basil leaves.
Enjoy!
Mustard inspiration - FoodBoom 
also check
Comments