<! - wp: image {"id": 2684, "sizeSlug": "medium"} ->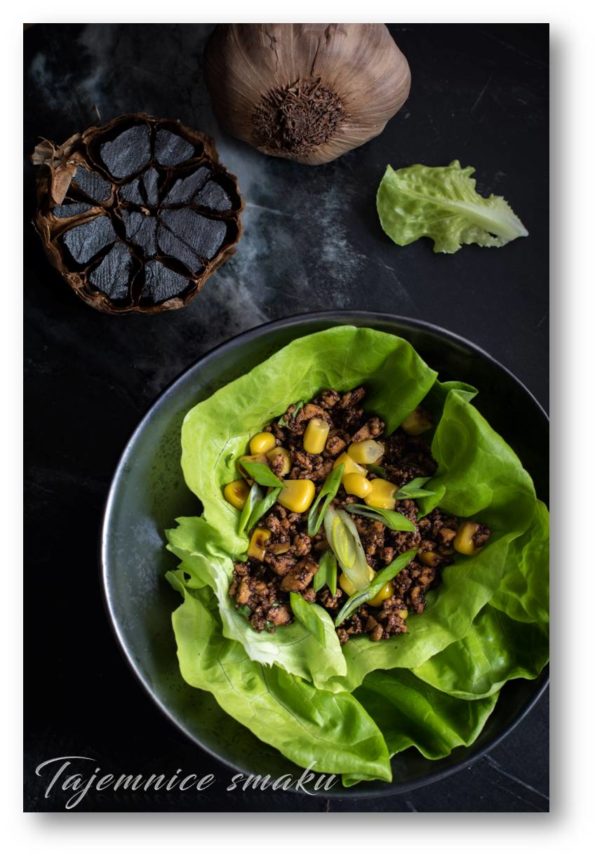 <! - / wp: image ->
Tofu in a black garlic sauce served with lettuce, this easy, quick and healthy snack, salad. It's just lettuce wraps, a dish vegetarian and gluten-free (as long as we use a gluten-free sauce soybean).
What is black garlic? It is white garlic, which turns black in the process of long-term and unusual fermentation and gains new taste and health properties. Garlic fermentation takes more than two months. It takes place in a place with high temperature and high humidity. Then the following weeks "rest". As a result, we get black garlic with a soft and delicate texture. The taste includes notes of smoked plum, dried apricots, vanilla and truffles.
Ingredients
BLACK GARLIC SAUCE
5 cloves of black garlic
1 tablespoon of soy sauce
3 - 4 tablespoons of water
1 teaspoon of honey
1 teaspoon of balsamic vinegar
5 tabasco drops
TOFU
head of lettuce
180 g of hard smoked tofu
a small can of corn (140 g after the pickle was drained)
a bunch of balloons
1 tablespoon of grape seed oil
Execution
BLACK GARLIC SAUCE
We mix all the ingredients for the sauce.
TOFU
Crumble the tofu in your hands and fry in oil until it is much of the liquid will boil off and the tofu will begin to blush. We take it off the pan.
Pour the garlic sauce into the same pan and heat it up 1-2 minutes, stirring constantly. Then add the fried tofu and to the sauce drained corn, mix. Remove from the pan and add the chopped spring onions. Serve portions of tofu in lettuce leaves. It tastes good both warm and hot and cold.
Enjoy your meal!
also check
Comments