Fried salmon with green salad and juicy salsa pomegranate fruit, a glass of white wine - an idea for an exquisite dinner
A large handful of mixed fresh leaves, salmon fried in sesame, juicy and spicy pomegranate salsa and you have a quick and delicious salad. We can serve salmon in this form for a light dinner.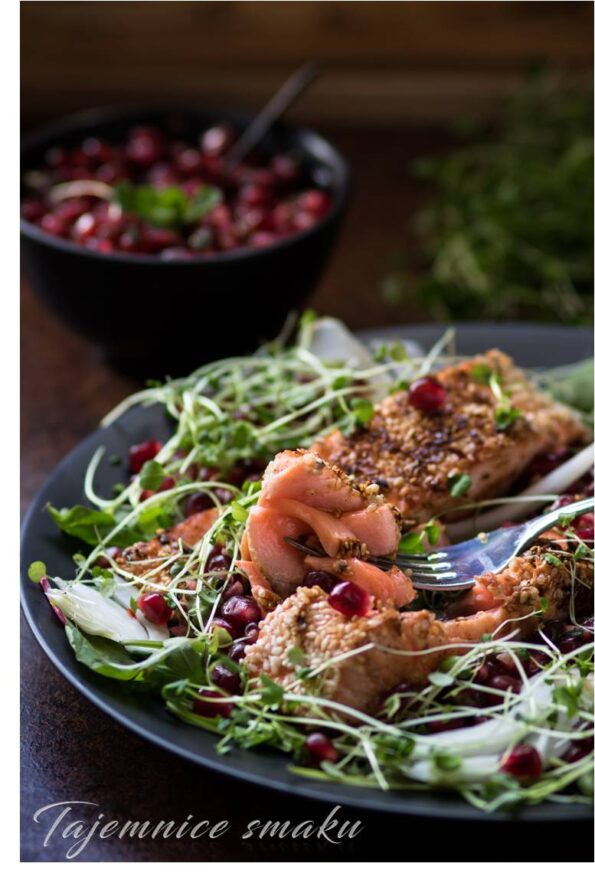 A glass of good white wine will be the perfect complement, and the dish will then be a great idea for an exquisite dinner.
Salmon can be served both hot and cold with the salad. Personally, I recommend the hot version, especially that the fish is fried very quickly. All ingredients can be prepared well in advance, and the salmon can be fried just before serving.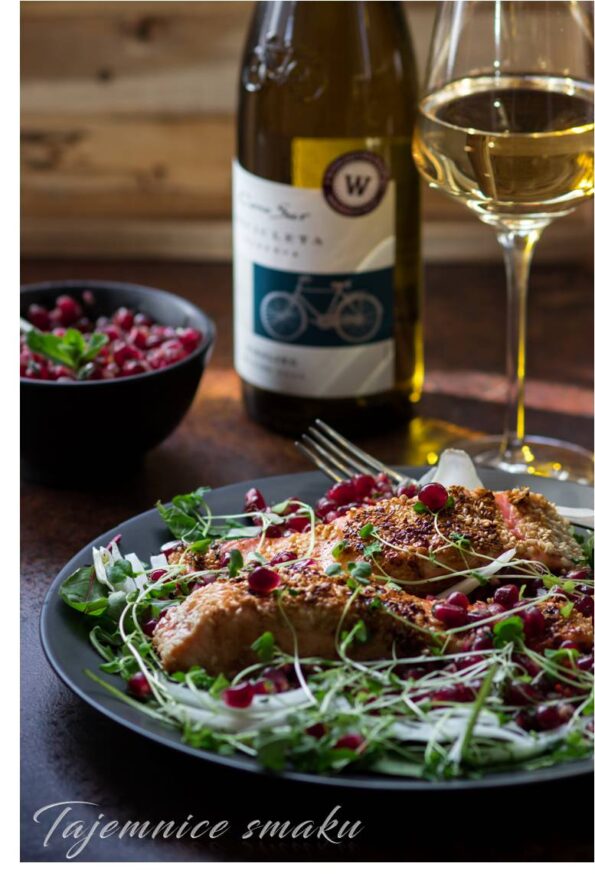 INGREDIENTS
POMEGRANATE AND MINT SALSA
1 red onion
250 ​​g of pomegranate seeds
1 small fresh chilli
10 g mint leaves
2 tablespoons of lime or lemon juice
1 tablespoon of balsamic vinegar
2 tablespoons of olive oil
salt
pepper
SALMON
500 g fresh salmon - fillet with skin
2 tablespoons of lime or lemon juice
2 tablespoons of soy sauce
1 tablespoon of honey
50 g of sesame
1 tablespoon of cooking oil
SALA
mix of lettuce (e.g. arugula, lamb's lettuce, spinach, lettuce, watercress, mangold)
1 fennel - fennel  plus 200 ml of cold water and 1 teaspoon of lemon juice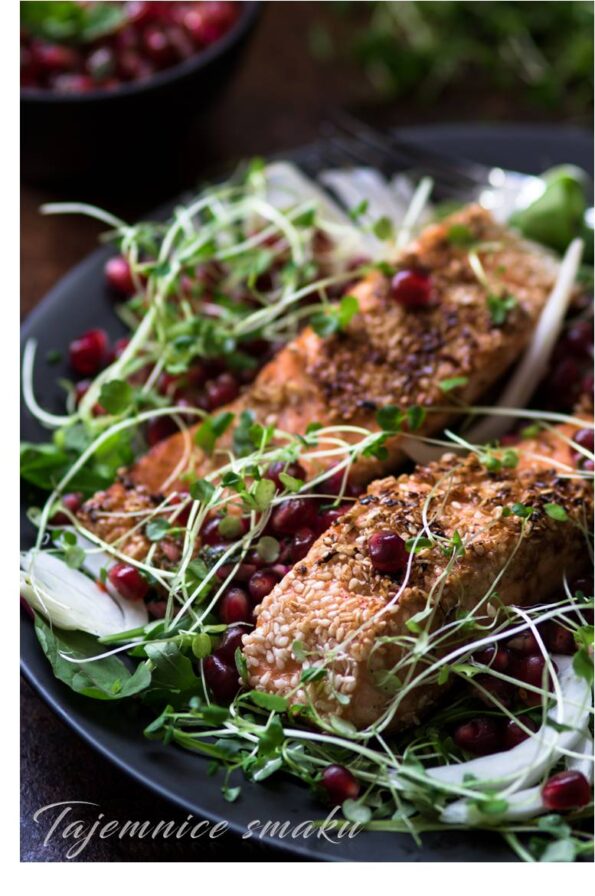 EXECUTION
POMEGRANATE AND MINT SALSA
Peel the onion and cut it into small cubes. Cut the chili pepper in half, remove the seeds and finely chop. Finely chop the mint leaves as well. Cut the pomegranate in half crosswise and remove the seeds. Mix the prepared ingredients in a small bowl with lime juice, vinegar, olive oil, season with salt and pepper. Set aside to marinate.
Wash the fennel, cut off the green stems (we can use them for soup) and cut them into thin slices. Dip the chopped fennel in cold water with lemon juice. Wash and dry a mixture of lettuces or other green leaves.
Rinse the salmon fillet under cold running water and dry thoroughly. If necessary, remove the bones from the fish and remove the scales from the skin. Cut crosswise into pieces 3 - 4 cm wide, salt and pepper.
In a bowl, mix the lime juice, soy sauce and honey. Sprinkle sesame seeds on a flat plate. Dip the salmon strips only from the meat side, first in the marinade, then in the sesame seeds and press lightly. We do not coat the sides of the salmon in sesame, thanks to which it will be easier for us to control the degree of doneness.
In a large frying pan, heat the oil and fry the fish over medium heat, first from the skin side. After a few minutes, when the skin is well browned and the fish is half raw, we carefully turn it over. Fry the sesame side for 2 minutes, making sure that the center of the fish is still slightly pink (raw). Pour the remaining marinade and fry for another minute.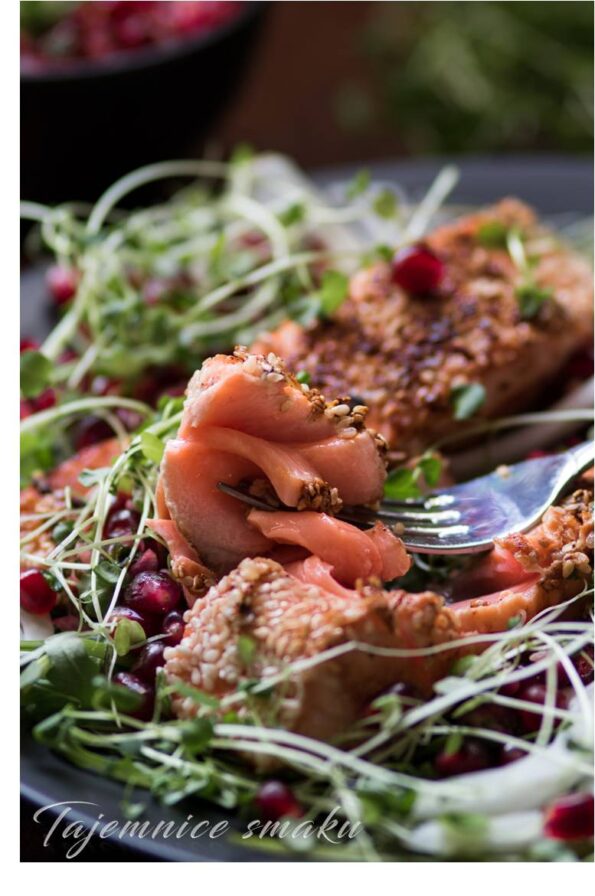 Drain the fennel from the water. We do not throw the water away, but drink it, it is a very tasty and refreshing drink.
We put green leaves and fennel on the plates. On top, spread slices of salmon (warm or cold, as you like), pour pomegranate salsa, chili and mint. Drizzle with the rest of the marinade from the pan. We serve with dry or semi-dry white wine.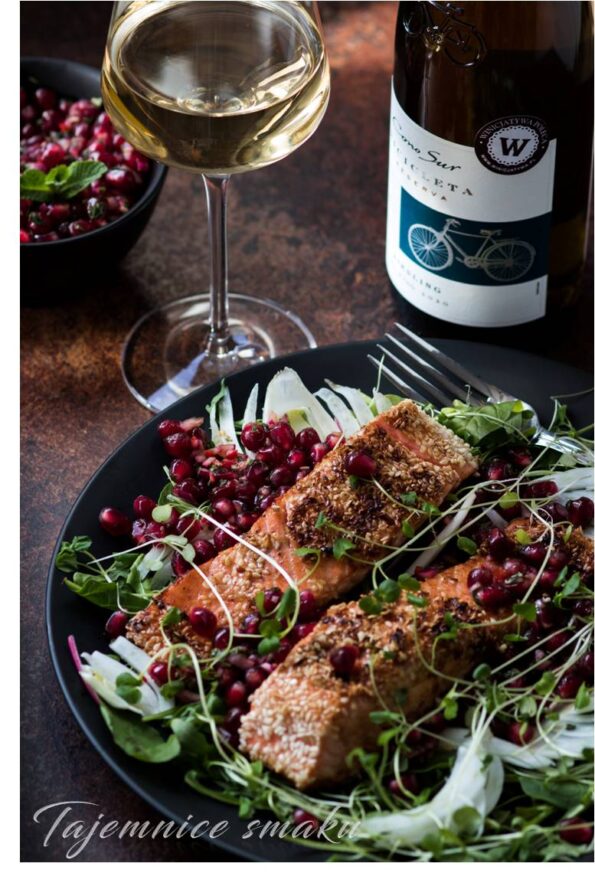 Salad with salmon tastes great served with a piece of bread and a glass of good wine. I served the salad with Chilean dry white wine made from Riesling grapes - Cono Sur Bicicleta. This is a fresh and crisp wine with a delicate floral aroma of jasmine and a pleasant hint of citrus. For me, this Riesling was the perfect companion to the salad with fried salmon.
This entry was created in cooperation with TIM
also check
Comments