"Real Japanese cuisine. Simple dishes, original flavors" Sonoko Sakai
"Japanese culinary art resembles an orchestra - it is a combination of elements. The ingredients of the dish build the taste, the flavors of the dish overlap. It's the same with a meal - all dishes intensify to create a symphony of flavors and sensations"< /em> - Sonoko Sakai.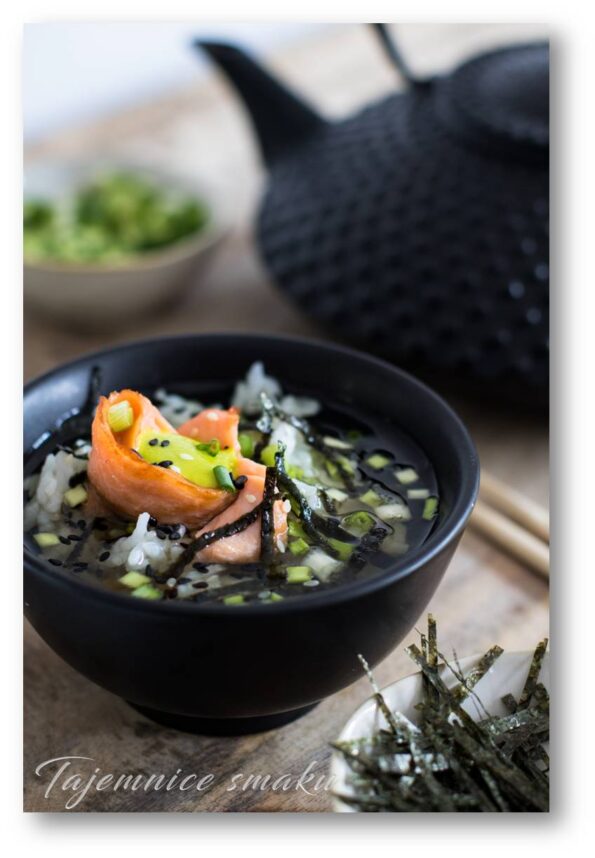 Ochazuke, or rice and tea soup. Tea soup is made in a bowl from fresh rice or rice leftovers. Tea infusion can be replaced with chicken broth, miso or dashi. Of course, I was most interested in the version with green tea and that's what I'm serving today.
Ochazuke soup can be a quick snack or, depending on the additions, a main course. This is a great idea to use up the rice from the previous day. The amount of ingredients is only a suggestion, in the case of this soup, the proportions and additions depend only on us. Sushi rice, green tea, wasabi paste, nori sheets, sesame can be bought in larger stores or online, e.g.
Ingredients
350 g cooked rice - sushi rice
700 ml of hot, freshly brewed green tea
2 tablespoons of roasted sesame
2 tbsp thinly sliced ​​dumka onions (white and green parts)
wasabi paste (optional and as much as we like)
soy sauce (optional)
a sheet of nori cut into thin strips with scissors
150 - 200 g of salmon or smoked salmon fillet (I used smoked salmon, but sliced)
1 tablespoon of vegetable oil, salt and pepper (for baking fresh salmon)
Execution
Preheat the grill in the oven. We line the baking sheet with baking paper. Drizzle the salmon with oil, salt and pepper. Grill for 6 - 10 minutes until it is toasted the way we like it. If the choice fell on a smoked salmon fillet, we heat it for half the time and only pepper it. We cool and break into pieces. I prepared my version of the soup with smoked salmon in slices. I formed "roses" from the fish slices, put them on a baking sheet and grilled them for 5 minutes.
We divide the rice into bowls, put pieces of salmon on top. We add sesame, nori and wasabi as much as we like, but be careful with wasabi, some pastes are very spicy. Just before serving, pour the whole thing with hot green tea and sprinkle with spring onions. We can add a bit of soy sauce to the soup.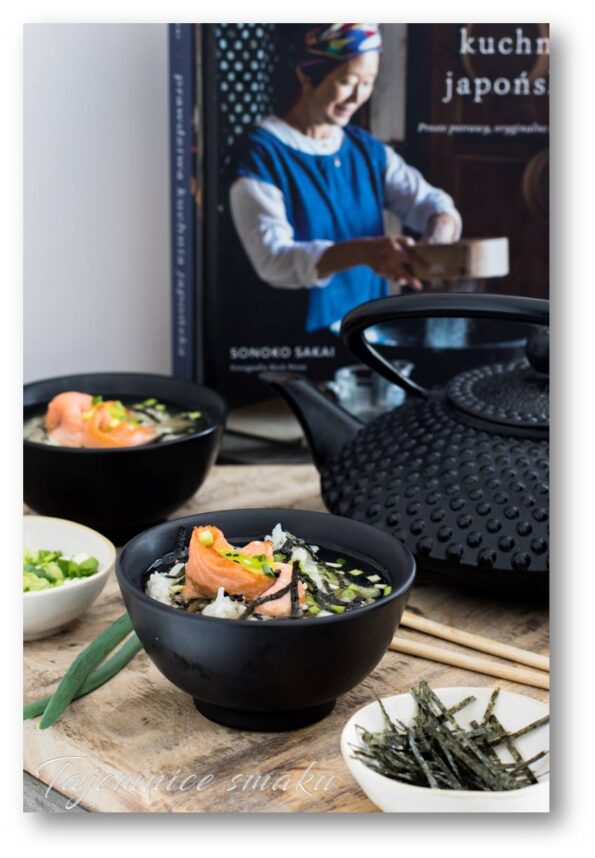 Real Japanese cuisine by Sonoko Sakai
I was inspired to prepare this unique Japanese soup by reading the book "True Japanese cuisine. simple dishes, original flavors". The author, teacher of Japanese cuisine  Sonoko Sakai  teaches to cook, makes pasta and works for the cultivation of cereals. She was born in New York and grew up in Tokyo, Kamakura, Mexico City, San Francisco and Los Angeles. She has written two books on Japanese cuisine and runs cooking workshops around the world. He bases his cooking philosophy on five principles: freshness, seasonality, simplicity, beauty and economy.
The book "Real Japanese cuisine. simple dishes, original flavors" is a rich guide to Japanese home cooking. Sanoko Sakai shares both culinary secrets and 160 ideas for Japanese dishes.
Real Japanese cuisine in your home!
Would you like to surprise your loved ones with fluffy milk bread and mochi cookies?
Would you like to prepare your dream ramen?
Do you want to learn the secrets of preparing Japanese broths, make tofu, soba noodles and udon yourself?
If so, this book is for you.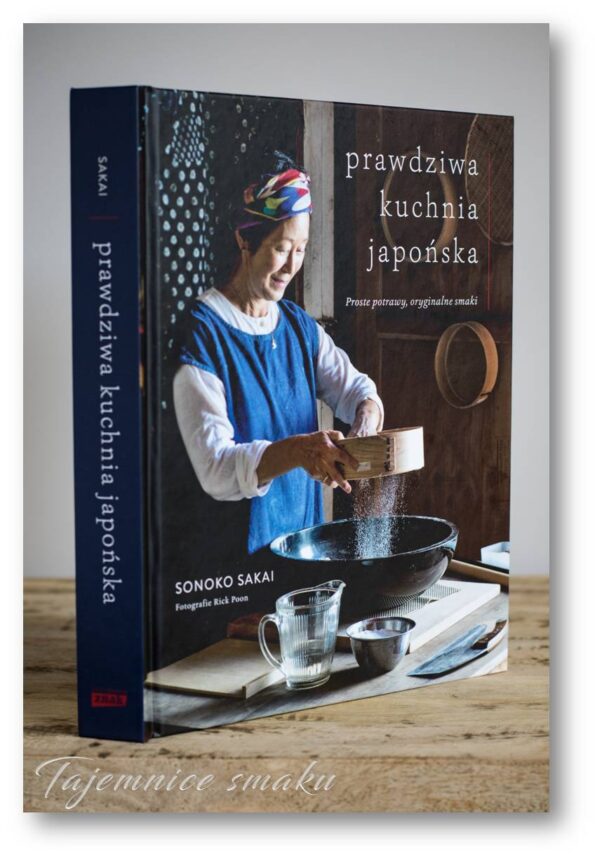 Thank you to Znak publishing house for providing me with a copy of the book for review.
also check
Comments