<! - wp: image {"align": "center", "id": 1485, "className": "is-style-default"} ->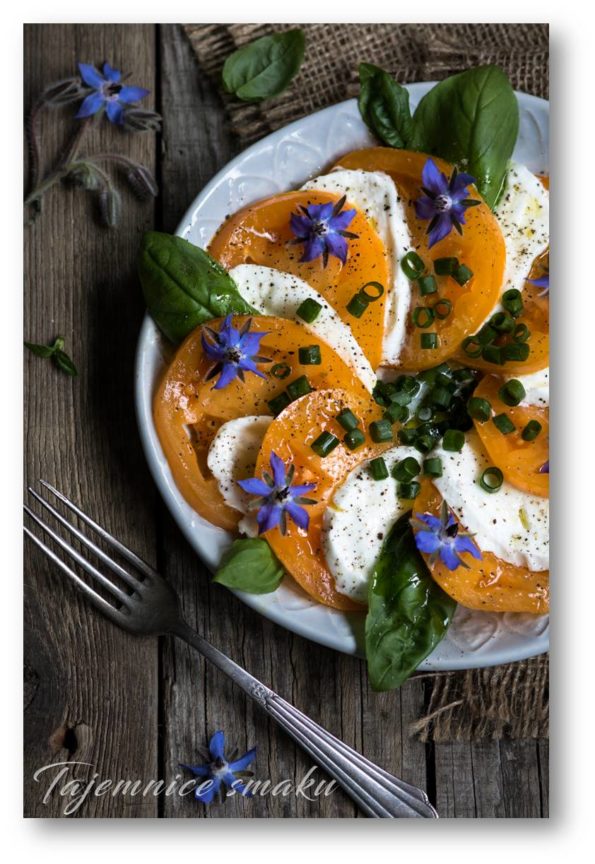 <! - / wp: image ->
The Italian taste classic "Insalata Caprese", literally a salad from Capri, the island from which it comes. The basis of an authentic Caprese salad are two essential ingredients, Mozzarella di Bufala, a cheese made from buffalo milk, and Sorento tomatoes, a variety that remains firm and compact when it is perfectly ripe. In addition, fresh basil, olive oil, salt and pepper.
The colors of the Insalata Caprese reflect the Italian flag. Unfortunately, this salad does not... but just like the Italian one, it tastes delicious.
This type of salads is an ideal proposition for busy people, very easy and quick to prepare, tasty and... nice.
Ingredients
1 - 2 pieces of ripe tomatoes
1 ball of Mozzarella di Bufala cheese (or regular mozzarella)
a few fresh basil leaves
1 tablespoon of chopped chives
1-2 tablespoons of olive oil
salt
pepper
optional, a few borage flowers to decorate during the season
Execution
Cut the tomatoes and mozzarella into thin slices, place alternately a slice of tomato and a slice of mozzarella on the plate. Season with salt and pepper, cover with basil leaves, sprinkle with chives and sprinkle with olive oil. In the summer season, we can decorate the salad with edible flowers, such as borage.
Enjoy your meal!
also check
Comments