The most famous sandwich from Campania, Panuozzo. Bread made of pizza dough, long, flat and deliciously stuffed
The last holiday meeting at Amber Bakery. This time, Ania washed Naples for the August bakery journeys challenge. We will bake Panuozzo , the most famous sandwich from Campania.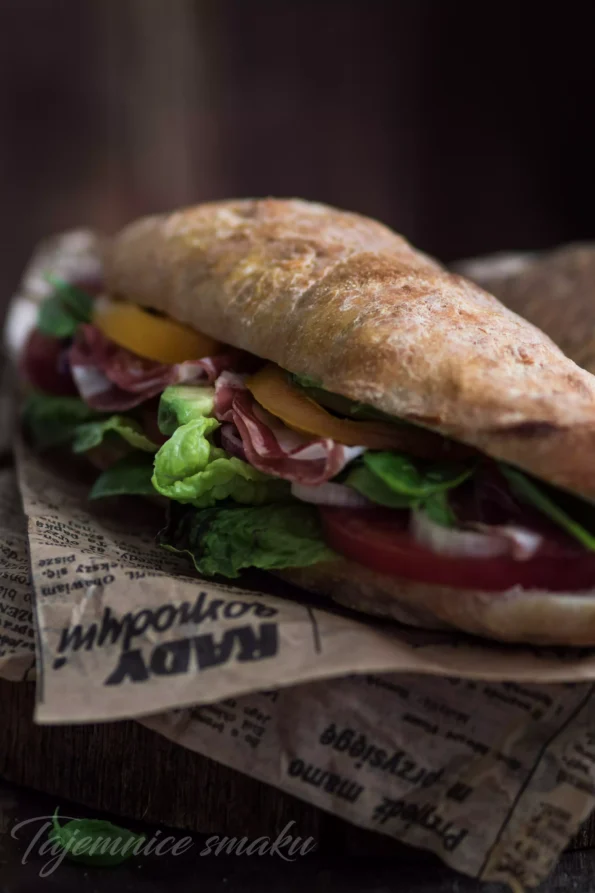 Panuozzo is a sandwich made of pizza dough, which after baking is cut in half and stuffed with spicy toppings. In Naples, the obligatory filling is fried sausage (salsiccia - raw Italian sausage), smoked scamorza cheese and friarielli, i.e. young broccoli leaves fried with garlic and chili. It's hard to find these additions here, so we can stuff the panuozzo with what we like.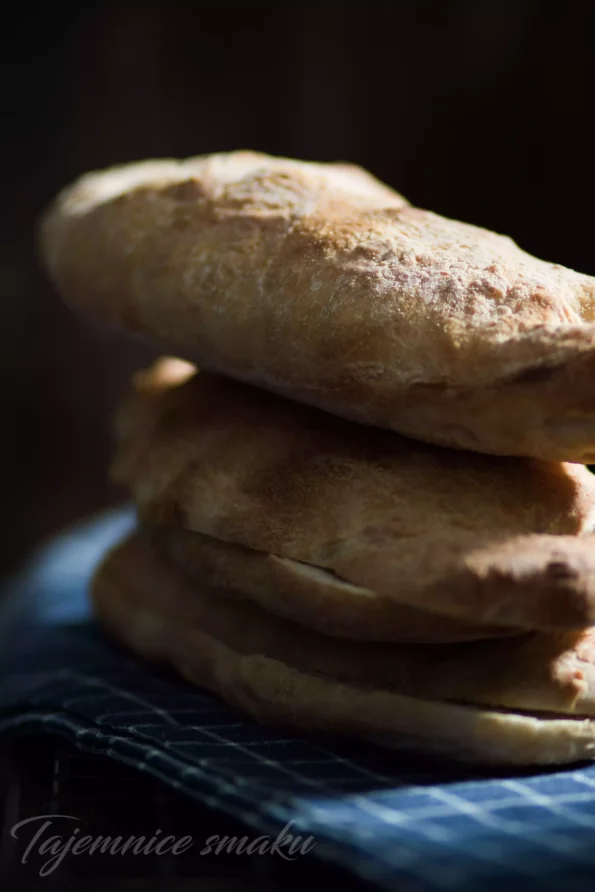 Panouozzo is usually served hot, straight from the oven. I baked my bread in the morning and served it cold for second breakfast. I stuffed them with cheese, lettuce, basil, onion, avocado, sausage, tomatoes, seasoned with salt and pepper and drizzled with olive oil.
INGREDIENTS
200 g Manitoba flour (or pizza flour)
100 g flour type 00 (pizza flour)
3 g dry yeast
10g sugar
180g water at room temperature
10g salt
semolina or other flour for dusting
EXECUTION
Pour the flour, yeast and sugar into a bowl and mix.
Add half of the water and knead, then add salt and the rest of the water.
Knead dough and let it rest for about 10 minutes.
Then place it in an oiled bowl, cover and let it rise at room temperature for about 2 hours.
Put it in the fridge overnight. li>
The next day, take the dough out of the fridge and put it on a floured worktop, cover and leave it for about 30 minutes to reach room temperature.
Divide the dough into 2 or 3 parts, and then fold each Hi. To do this, flatten the dough and fold it from the edge to the center on all sides.
We form oblong loaves and press with our fingers to seal the dough at the joint.
Cover and leave for 2 hours, joining down.
Sprinkle the pieces of dough with semolina, then gently flatten and press with your hands to form oblong flat pancakes.
Preheat the oven to 250°C and bake for about 12 minutes on a hot a baking sheet or a pizza stone.
We cool on a grate, cut in half and put what we want and like inside.
Panuozzo on blogs:
Gucio's kitchen
Kitchen door
My little magic
Gardens of Babylon
Sliced ​​and seasoned
< a href="https://rodzinnieroslinnie.blogspot.com/2022/08/panuozzo-pieczywo-z-ciasta-drozdzowego.html">Family plant-based
Secrets of taste
also check
Comments