<! - wp: heading ->
Pizzerias with tomato sauce, avocado and quail egg
<! - / wp: heading -> <! - wp: image {"id": 3196, "sizeSlug": "medium", "className": "is-style-default"} ->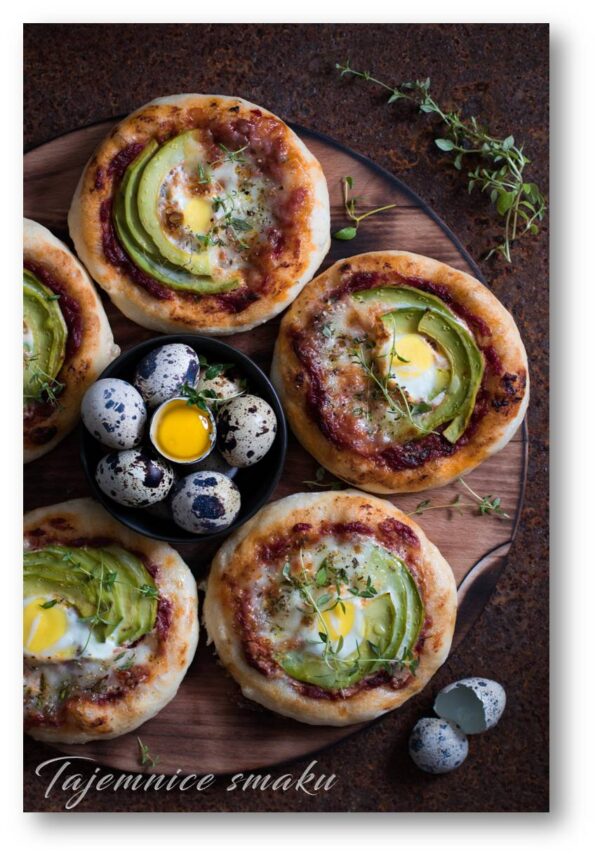 <! - / wp: image ->
The best pizza for me is one made of dough which is kept in the fridge for about 12-24 hours. After baking in this way, the dough is very tasty, crispy on the top and fluffy inside. Of course, we can skip the freezing of the dough and prepare a faster version of the pizza from this recipe. Then, after kneading the dough, cover it and leave it to rise at room temperature for about 1.5 hours. Then divide the dough into 15 parts and continue as in the recipe.
What pizza toppings? The kind you like best or the ones you have at home. If you run out of ideas, check out Recipes.p l you will find a lot of inspiration there, with what else you can prepare a pizza.
Ingredients
CAKE
500 g of pizza flour type "00"
15 g of fresh yeast
8 g ​​of salt
30 ml of olive oil
300 ml of water
EXTRAS
2 avocados
200 g of thick tomato sauce
2 balls of mozzarella cheese or 15 small balls
15 quail eggs
a few sprigs of thyme
3 tablespoons of olive oil
salt
pepper
Execution
CAKE
Dissolve yeast in warm water, add flour, mix until ingredients are combined, cover and set aside for an hour. After this time, add salt and olive oil and knead the dough until it moves away from the walls of the bowl, it is best to knead it with a hook.
Cover the kneaded dough with cling film and put it in the fridge for 12 - 24 hours. I usually knead the dough in the evening and put it in the fridge. The next day I take out the dough when I plan to bake a pizza.
After taking the dough out of the fridge, divide it into 15 parts. Put each portion on a floured board, form balls, cover with a cloth and set aside for about 30 minutes. Then we form each ball of dough in our hands into a round cake, thin or thicker, as we like. Place the pancakes on baking sheets lined with baking paper, cover them with a cloth and set aside for about 30 minutes.
The oven is set to the maximum temperature (250 ° C). If you use a pizza stone, put it in a cold oven and heat it up longer, about 30 minutes after preheating the oven.
MINI PIZZA
Season the tomato sauce with salt and pepper and add some thyme leaves. In order to obtain a thick tomato sauce, we have to stock up on a larger amount of tomato sauce or passata and reduce it in a saucepan. Then we only season it after obtaining the expected density.
Peel and slice the avocado, tear the mozzarella into pieces. Spread the tomato sauce over the pancakes. Form a hole in the middle with a spoon. Cover around with chopped avocado and pieces of mozzarella, insert a quail egg in the middle. Sprinkle each cake with the remaining thyme leaves, sprinkle with olive oil and bake for 12-15 minutes, until the edges are golden and crispy. If we use a pizza stone, the baking time is shorter, for me it is 8 minutes.
Enjoy your meal!
also check
Comments