<! - wp: image {"align": "center", "id": 1592, "className": "is-style-default"} ->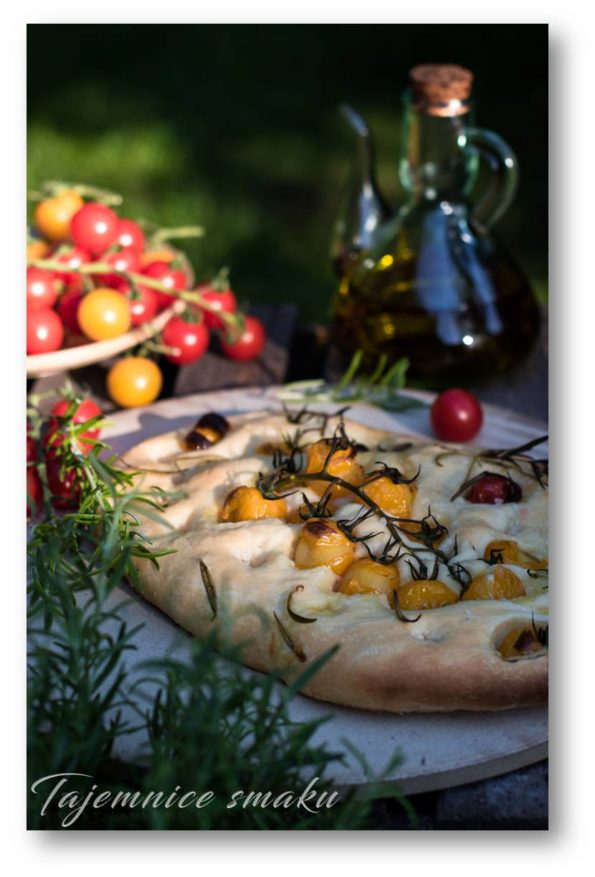 <! - / wp: image ->
Focaccia is a type of bread that comes from the Italian Liguria. The capital of focaccia is Genoa, and the famous "focaccia genovese" is a tradition of the local cuisine.
We can bake the focaccia immediately after the dough has risen, but I prefer the so-called dough. nightly. I combine the ingredients for the dough and knead in the evening, put it in the fridge and prepare the focaccia the next day.
Ingredients
500 g of pizza flour type "00"
50 g of fresh yeast
10 g of sugar
5 g of salt
50 ml of white wine
200 ml of lukewarm water
30 ml of olive oil
Olive oil to brush the bowl and focaccia before baking
two bunches of cherry tomatoes
a sprig of fresh rosemary
Execution
Sift the flour into a bowl, add yeast, wine, water, olive oil, sugar and salt. We knead into a smooth and elastic dough. Brush the bowl with olive oil, put the dough into it, forming a ball, cover it and leave it in the fridge overnight *.
On the second day, 2 hours before baking, remove the bowl with the dough from the fridge and leave it for about 1.5 hours in a warm place to rise.
From this portion of the dough we can prepare one large focaccia, on the whole baking tray, or two smaller ones.
Put the dough on a baking tray lined with baking paper, form the cake with your hands smeared with plenty of olive oil. Use your fingers to make holes over the entire surface of the cake, spread out cherry tomatoes and chopped rosemary. Let it rise again for about 30 minutes.
Preheat the oven to 190 ° C. Before baking, sprinkle the focaccia generously with olive oil and bake it for about 25 minutes, until the top is golden **.
* If we do not have time, we skip "sleeping" the cake in the fridge and leave the dough immediately to rise.
** If we want to bake on a fireclay stone for pizza, heat the oven together with the stone to 240 ° C and bake the focaccia for 12 - 15 minutes.
also check
Comments