Homemade fast food
The most important thing in a burger is the bun, and the best one is one baked at home. With such a bun, we can serve burgers in different versions: beef, with grilled halloumi or with crispy panko-coated chicken.
The burger is the most important part of the burger.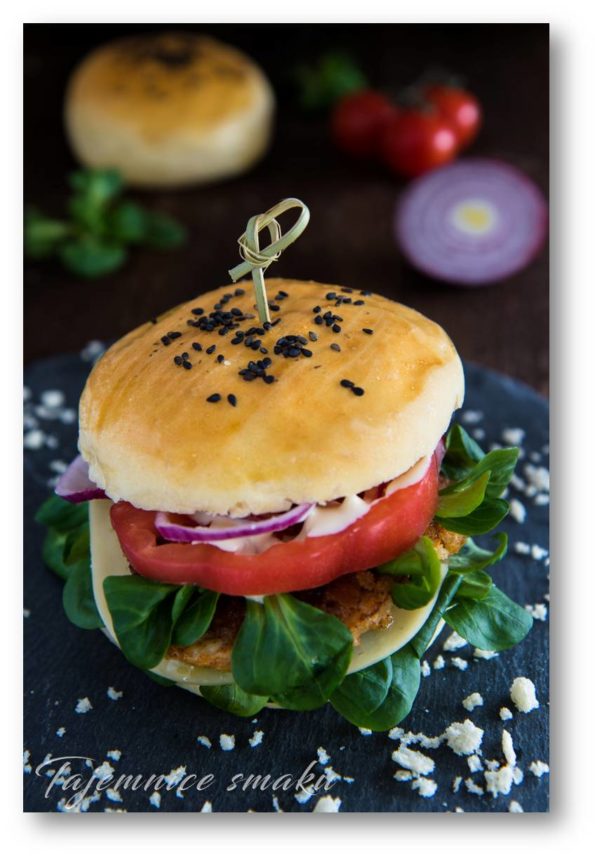 What is panko? Panko is a Japanese flaky coating, equivalent to breadcrumbs, except that it is softer in flavor and crunchier. Panko also has the advantage of absorbing less fat during frying than traditional breadcrumbs. Panko can be purchased at oriental food stands.
INGREDIENTS
Breadcrumbs - 8 pieces*
400g flour
3/4 teaspoon salt
1 egg + 1 egg for spreading before baking
1 tsp sesame seeds to sprinkle on the buns
Starter
20g of flour
1 and 1/2 teaspoon of sugar
20g of fresh yeast
30g of melted and cooled butter
160ml of water
30g of powdered milk
Panko coated chicken
8 servings of shredded chicken cutlets ( breast meat or thigh fillets)
panko batter
1 egg
2-3 tablespoons flour
frying oil
salt, pepper
Also
8 slices of yellow cheese
tomatoes
slices of pickled cucumbers
red onions
shredded onions
ketchup
mayonnaise
MAKING
Starter
In a bowl, mix all the ingredients for the leaven and set aside for 30 minutes.
Breadcrumbs
Pour the flour into another bowl, add the starter, egg and knead the dough. Set aside to rise, covered with a cloth for about 1 hour.
From the risen dough, form 8 buns, place them on a baking sheet lined with baking paper and flatten slightly. Cover with a cloth and set aside to rise for 45 minutes.
Rise.
Preheat the oven to 200°C.
Before baking, grease the rolls with a beaten egg and sprinkle with sesame seeds. Place in the preheated oven and bake for about 15 minutes.
Panko breaded chicken
From egg, flour and a little water prepare a batter with the consistency of pancake batter. Seasoned with salt and pepper pieces of chicken are dipped in the prepared batter, coat thoroughly in panko batter and fry until golden brown.
The chicken pieces are then dipped in the batter, coated thoroughly in panko batter and fried until golden brown.
Burger
Cut the warm buns in half. Grease the flat part of the bun with ketchup, layer with slices of pickle and lettuce, then put a slice of yellow cheese, crispy chicken, lettuce, tomato slice, red onion rings and mayonnaise. Cover with the top of the roll, pin with a stick and.... Enjoy!
* Recipe for hamburger buns taken from the "Encyclopedia of home baking".
also check
Comments