<! - wp: image {"align": "center", "id": 1624, "className": "is-style-default"} ->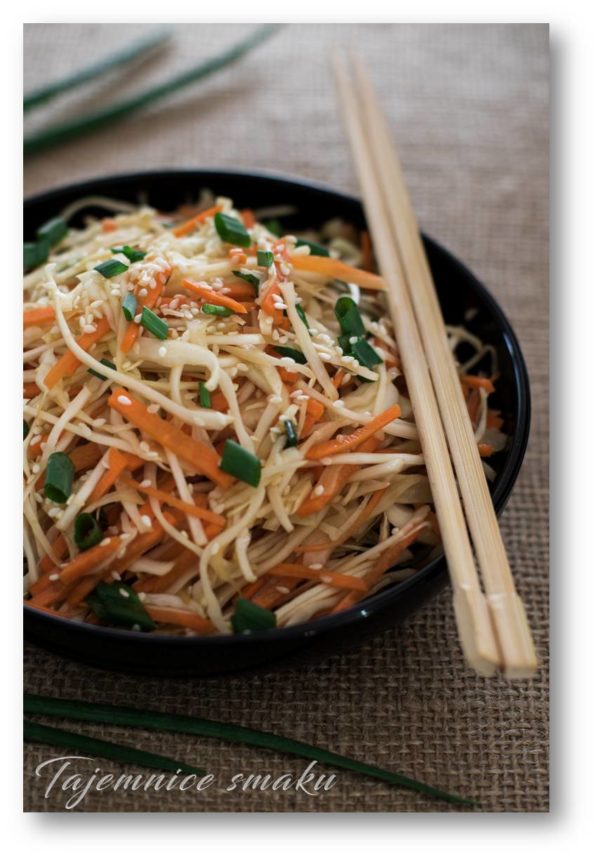 <! - / wp: image ->
Cabbage plays a fairly important role in Polish cuisine. It is an ingredient of many traditional recipes, such as: fried, boiled cabbage, cabbage rolls, bigos. We can also pickle the cabbage or eat it raw.
Fresh cabbage salads are refreshing, crispy, tasty and healthy. Most often, we prepare a salad of cabbage, carrots, onions, apples and oil. However, we can introduce new flavors to our kitchen and prepare an Asian-style coleslaw.
Ingredients
1/4 head of cabbage about 500 g
100 g carrots
2 - 3 balloons
2 tablespoons of sesame seeds
10 g of fresh ginger
4 - 5 tablespoons of rice vinegar
1 teaspoon of cane sugar
3 tablespoons of sesame oil
2 tablespoons of soy sauce
1/2 teaspoon of chili sauce or a few drops of tabasco sauce
salt
Execution
We prepare the sauce. Grate the peeled ginger on a fine grater. Add rice vinegar, sesame oil, soy sauce, chili or tabasco sauce, sugar, mix and season with salt to the grated ginger.
Chop the cabbage. Chop the spring onions. Peel the carrots, cut them diagonally into thin slices, and then chop them lengthwise into small strips, the so-called julienne.
Mix chopped vegetables, spring onions, sesame seeds with the sauce, taste, season with salt if necessary. Leave it in the fridge for about an hour.
Enjoy your meal!
also check
Comments