<! - wp: heading ->
Sweet and sour grated carrots boiled in vinegar syrup with chili, ginger, garlic, garam masala and cumin. Carrot chutney enriched with roasted sesame and raisins.
<! - / wp: heading ->
Carrot chutney is sweet and sour, slightly spicy with aromatic spices and a fruity note of apple cider vinegar. It is very universal, as an aromatic and expressive flavor, it goes well with many dishes. It will perfectly enrich various dishes with its unique sweet and sour taste, just add a spoon or two at the end of cooking. Served straight from the fridge, it will be the perfect addition to the cheese board. Sandwiches with cottage cheese, pate or hummus with the addition of these spicy carrots will be a great snack at many events. Carrots can also be added to burgers, salads or grilled meats and vegetables.
<! - wp: image {"id": 6022, "sizeSlug": "medium", "linkDestination": "none", "className": "is-style-default"} ->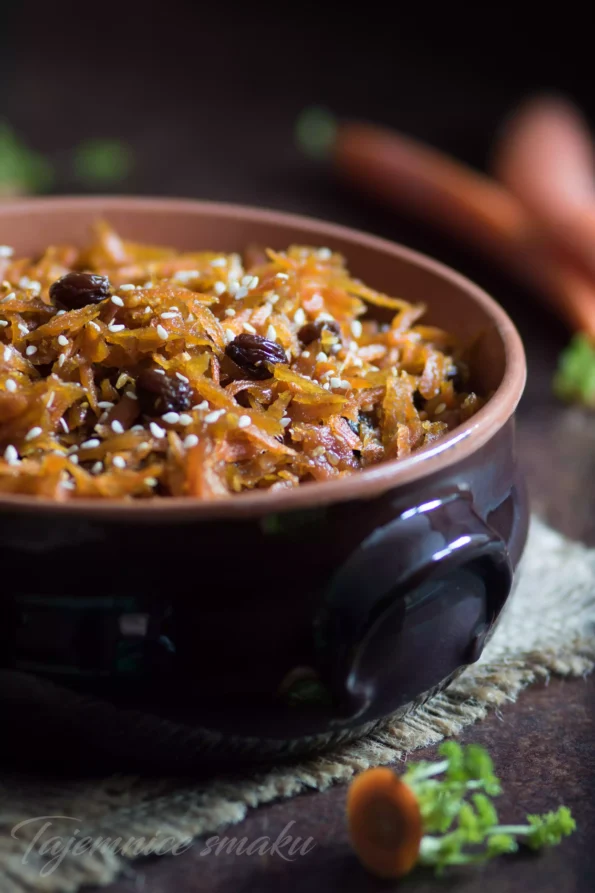 <! - / wp: image ->
Inspiration - Indian cuisine - Vegetarian flavors of the world - Roopy Gulati
INGREDIENTS
<! - wp: list ->
<! - wp: list-item ->
500 g carrots, peeled and coarse grated
<! - / wp: list-item -> <! - wp: list-item ->
1 teaspoon of salt
<! - / wp: list-item -> <! - wp: list-item ->
250 g of sugar
<! - / wp: list-item -> <! - wp: list-item ->
250 ml of apple or white wine vinegar
<! - / wp: list-item -> <! - wp: list-item ->
20 g fresh ginger root, peeled and finely grated
<! - / wp: list-item -> <! - wp: list-item ->
4 cloves of garlic, finely grated or chopped
<! - / wp: list-item -> <! - wp: list-item ->
1/2 teaspoon of ground chili
<! - / wp: list-item -> <! - wp: list-item ->
1/2 teaspoon ground cumin (Roman cumin)
<! - / wp: list-item -> <! - wp: list-item ->
1/2 teaspoon garam masala
<! - / wp: list-item -> <! - wp: list-item ->
50 g of raisins
<! - / wp: list-item -> <! - wp: list-item ->
2 tablespoons of roasted sesame
<! - / wp: list-item -> <! - wp: list-item ->
hot water if needed
<! - / wp: list-item ->
<! - / wp: list ->
PERFORMANCE
<! - wp: list {"ordered": true, "type": "1"} ->
<! - wp: list-item ->
Sprinkle the carrots with salt and set aside for half an hour.
<! - / wp: list-item -> <! - wp: list-item ->
Pour sugar into a medium-sized frying pan over low heat and pour vinegar over it.
<! - / wp: list-item -> <! - wp: list-item ->
Heat for 2-3 minutes, stirring occasionally, until the sugar dissolves.
<! - / wp: list-item -> <! - wp: list-item ->
Add carrots, ginger, garlic, chili, cumin and garam masala and mix.
<! - / wp: list-item -> <! - wp: list-item ->
Boil the carrots and spices over medium heat for about 30 minutes.
<! - / wp: list-item -> <! - wp: list-item ->
Pour in the raisins and sesame and continue cooking until the carrot is slightly translucent, shiny and dry. If the liquid evaporates too quickly and the carrot is not ready yet, you can pour hot water.
<! - / wp: list-item -> <! - wp: list-item ->
Put the ready chutney into a scalded jar. We store in the refrigerator for 2-3 months. We can also pasteurize in smaller jars.
<! - / wp: list-item -> <! - wp: list-item ->
Before using the carrot chutney, it is best to put it in the refrigerator for at least 2 days to "mature".
<! - / wp: list-item ->
<! - / wp: list ->
also check
Comments