<! - wp: image {"id": 2256} ->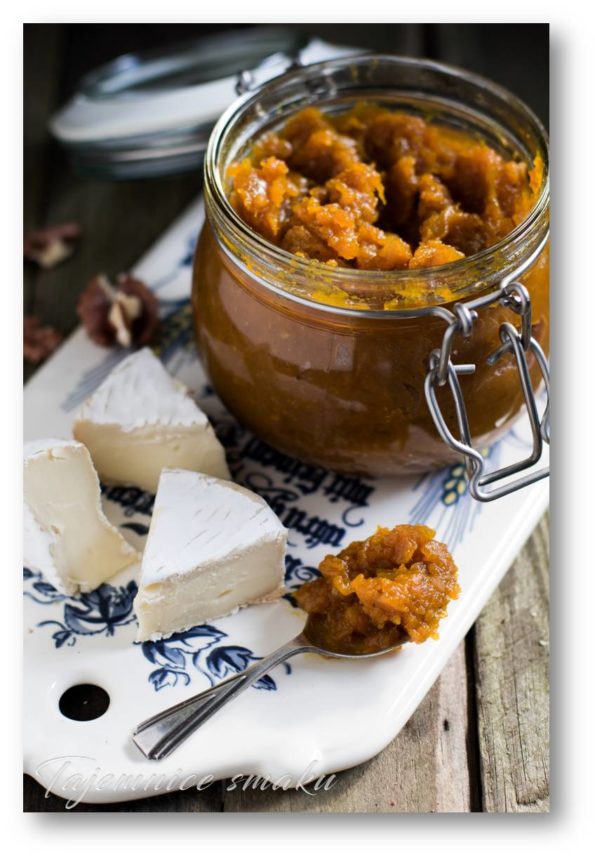 <! - / wp: image ->
What is chutney?
Chutney is a spicy, sweet or dry sauce made from fruits and / or vegetables, originating in India. The texture of chutney is the most similar to jam. The addition of vinegar, salt and various spices makes it a jam only in appearance, in fact it is a spicy spice, perfect as an addition to many dishes.
Is it eaten?
Chutney is a delicious addition to meats, cheeses, bread, crackers... more curiosities and recipes for chutney can be found at Ola - Four Fajery . Pumpkin chutney prepared from the recipe below tastes best with camembert cheeses. I also like to spread it on a crispy bread sandwich, previously buttered with a slice of yellow cheese on top.. yum!
Ingredients
500 g of pumpkin
150 g of onion
30 g of fresh ginger
1 orange juice
10 grains of black pepper
1/2 teaspoon of coriander seeds
1/2 teaspoon of cumin seeds (Roman cumin)
1 teaspoon turmeric powder
a pinch of freshly grated nutmeg
2 teaspoons of salt
100 ml of apple cider vinegar
100 ml of water
150 g of sugar
Execution
Caramelized sugar. Pour sugar into a pot or pan with a thick bottom. Heat until the sugar starts to change its consistency to liquid and its color from white to amber. Do not mix, possibly slightly shake the pan. Quickly take it off the heat and carefully (the caramel has a very high temperature!) Pour it onto a baking tray lined with baking paper. When it cools down, break the finished caramel sheet into pieces and add it to the pumpkin at the end of cooking.
Peel the pumpkin, hollow it out and grate it on a coarse grater meshes. Peel the onion and dice it. Grate the peeled ginger on a fine grater meshes. Squeeze the juice from the orange. Grind pepper, coriander, cumin in a mortar, mix with turmeric and nutmeg.
Put the pumpkin, onion, ginger, salt into the pot with loss, mix of spices, add orange juice, vinegar and water. We cook the whole thing on simmer for about 40 minutes. At the end, add caramelized sugar and mix and cook until the sugar dissolves. We try, season if necessary. Pour the hot chutney into the scalded jars and turn it on. Cool we store in the refrigerator or pasteurize.
Enjoy your meal!
I also recommend a recipe for
Cherry chutney
Plum chutney
also check
Comments