<! - wp: image {"id": 1853} ->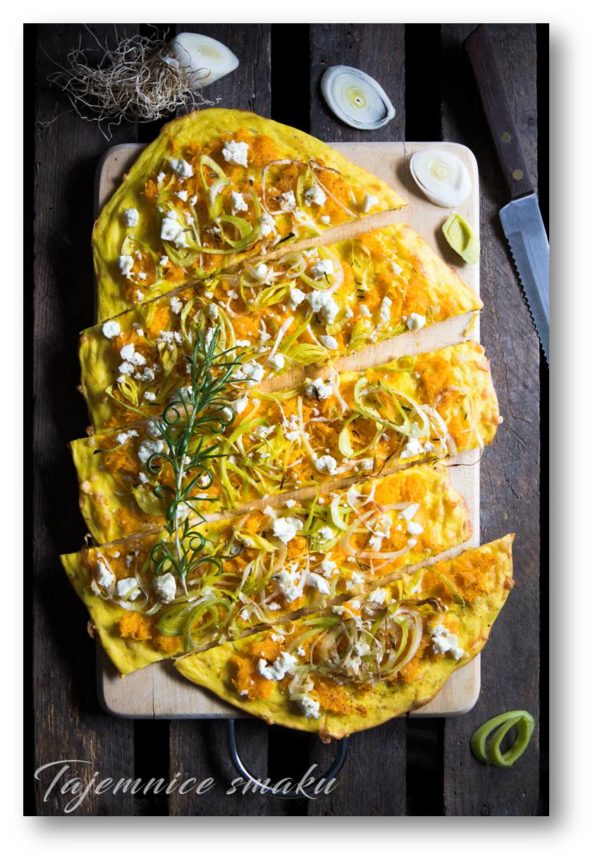 <! - / wp: image ->
Cheese pie with pumpkin, leek and feta is both vegetarian and and gluten-free. It is best served warm. Such a cake is a good idea for breakfast. It also goes well with dinner, served with mixed lettuce salad.
When preparing such a cake, we have the opportunity to clean up the refrigerator. We can use the ends of yellow cheeses, replace the ricotta cheese with cottage cheese, and instead of pumpkin and leek, add zucchini and onion.
Ingredients
BOTTOM
100 g of yellow cheese (Edam)
2 eggs
250 g ricotta cheese
20 g of corn flour
1/2 teaspoon turmeric powder
1/2 teaspoon dried rosemary
salt
pepper
APPLICATION
150 g of pumpkin
30 g leek
20 g of feta cheese
1/2 teaspoon dried rosemary (or 1 teaspoon chopped fresh)
3 - 4 tablespoons of olive oil
salt
pepper
Execution
BOTTOM
Grate the cheese on coarse meshes. Eggs, ricotta cheese, corn flour, turmeric, rosemary, salt and pepper, mix with a whisk in a bowl on smooth mass. Add the grated yellow cheese and place it on a baking tray lined with paper for baking. Use a spoon to form a cake with dimensions of about 20 x 25 cm. We bake the first 20 minutes in an oven preheated to 180 ° C.
APPLICATION
While the pie is baking a peeled pumpkin in the oven Grind on fine meshes, cut the leek into thin strips, crumble the feta cheese. After 20 For minutes of baking, remove the cake, put the grated, chopped pumpkin on top leek, sprinkle with crushed feta cheese and rosemary. Sprinkle everything with olive oil and season salt and pepper, put in the oven for another 20 minutes - 180 ° C.
Enjoy your meal!
also check
Comments