Bianca pizza with mozzarella, pumpkin, no tomato sauce. Overnight ne pizza dough
Do you always need tomatoes for pizza? No, because without tomato sauce, pizza also tastes delicious. Pizza bianca with ricotta, mozzarella, pumpkin, onion, garlic and rosemary.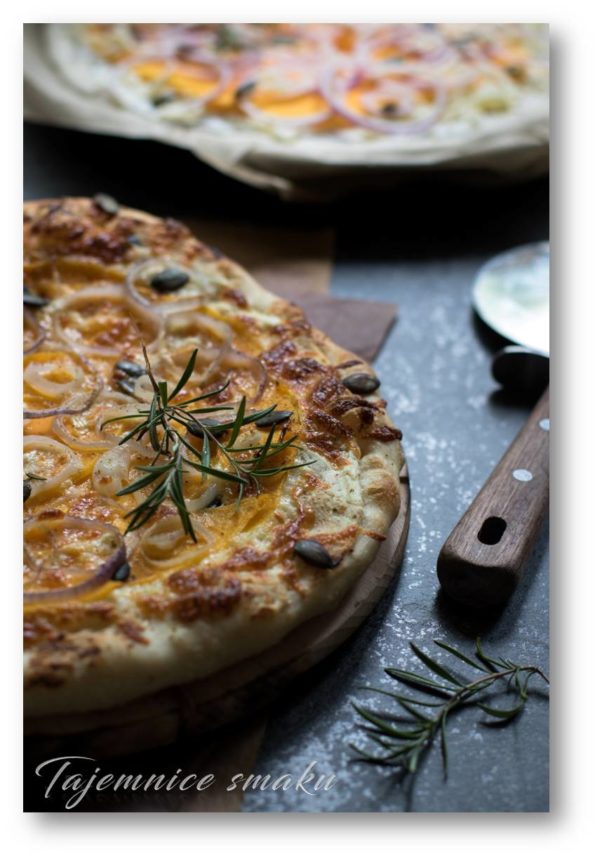 The dough for this pizza is best prepared the day before. Such dough in the refrigerator can ripen for about 24 hours. The ripened dough after baking is very tasty, crispy on the top and fluffy in the middle.
INGREDIENTS for 3 medium-sized pizzas
CAKE
500 g pizza flour type "00"
15 g fresh yeast
8 g salt
30 ml olive oil
300 ml water
Additives
250 g ricotta cheese
200 g mozzarella cheese (hard, rennet, unripened, half-fat)
1 clove of garlic
1 - 2 sprigs of fresh rosemary
400 g pumpkin
1 red onion
a pinch of salt and pepper
3 tablespoons olive oil
2 tablespoons pumpkin seeds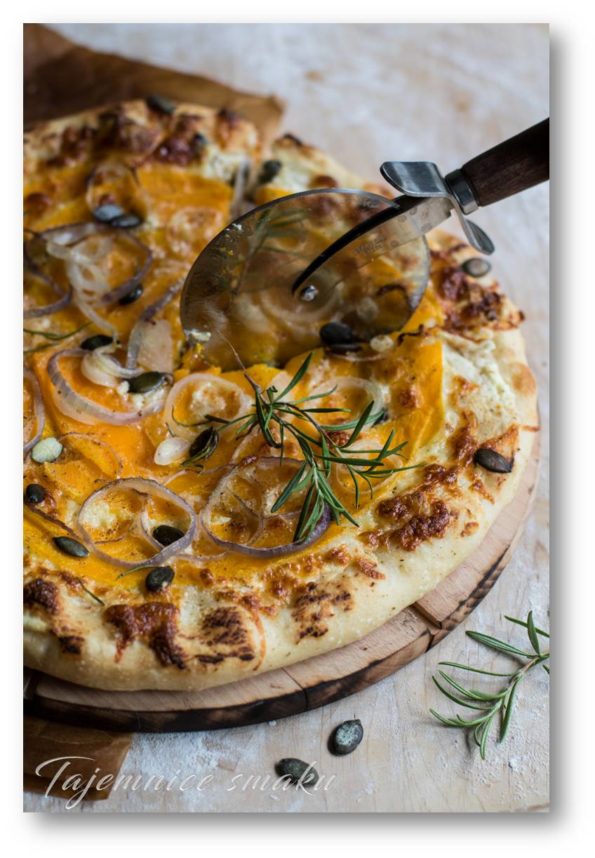 Performance
WALL
Dissolve yeast in warm water, add flour, stir to combine ingredients, cover and set aside for one hour.
After this time, add salt and oil and knead the dough until it comes away from the sides of the bowl (I knead the dough in a food processor with a hook).
Cover the kneaded dough (with a tight lid or cling film food wrap, so that it does not dry out from the top) and set aside in the refrigerator for 12 - 24 hours. Most often I knead the dough in the evening and set it aside in the refrigerator. On the second day I take out the dough then, when I I plan to bake the pizza.
After removing the dough from the refrigerator, divide it into three parts.
Each portion is placed on a floured pastry board, lightly kneaded, formed into balls, covered with a cloth and set aside for about 30 minutes.
Then roll or form each ball of dough in your hands into a round, thin pancake.
Transfer each pancake to baking sheets lined with baking paper, cover with a cloth and set aside for about 30 minutes.
Set the oven to maximum temperature (250°C).
Peel garlic, grate it on a fine mesh grater or crush it, mix it with ricotta cheese, a pinch of salt and pepper. Spread the cheese mixture prepared in this way over the cakes from the dough.
Sprinkle with chopped rosemary needles (as many as you like) and mozzarella cheese grated on a coarse grater.
Peel and cut the pumpkin into very thin strips, preferably using a vegetable peeler.
We cut peeled onions into thin slices and separate each into rings.
Place the pumpkin slices/strips on the pizza, then, spread the onion rings on top.
Sprinkle each slice with 1 tablespoon of olive oil and sprinkle with pumpkin seeds.
Bake for about 12 - 15 minutes, until the edges are golden and crispy.
also check
Comments