Stuffed eggs with avocado, mustard and watercress
The sowing cress is commonly called "cress" in Poland, but this name refers to a separate type of plant. But it's just a curiosity, because we probably won't change our habits, and the pepper will still be a watercress.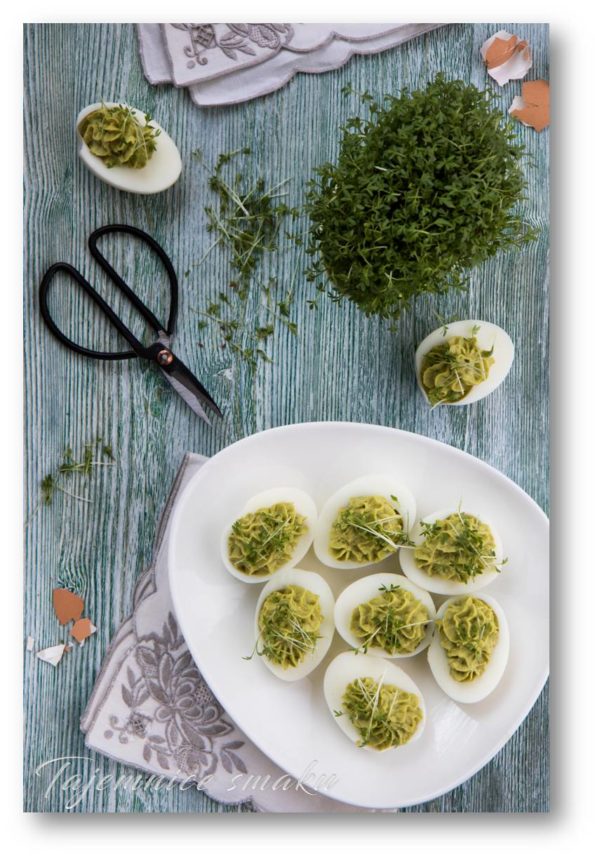 Crewberry... I often look for information about one of the ingredients when preparing the introduction to a recipe. Especially when the recipe is trivially simple. This time I wanted to emphasize the health benefits of watercress. I already know that it contains a lot of vitamins (A, B1, B2, B3, B5, B6, B9, C, E and K) and minerals (calcium, iron, magnesium, manganese, iodine, phosphorus and potassium), but I didn't know that cress is actually the common cress.
INGREDIENTS
6 eggs
1 avocado
1 teaspoon spicy Dijon mustard
2 teaspoons lemon juice
salt< /li>
pepper
cress, or common cress
Execution
Cook hard-boiled eggs for about 8-9 minutes, cool, peel and cut in half. We take out the yolks and put them in bowls, and put the egg whites on a plate.
To the yolks add avocado pulp, mustard, juice lemons, season with salt and pepper. We grind the whole addition with the help of fork and mix until you get a uniform mousse.
Put the avocado and egg yolk mousse on the whites in place of the previous ones yolks, for a better effect, you can use a pastry bag. At the end sprinkle with cress leaves.
Enjoy!
also check
Comments