Lemon dumplings light as a cloud according to Rozkoszny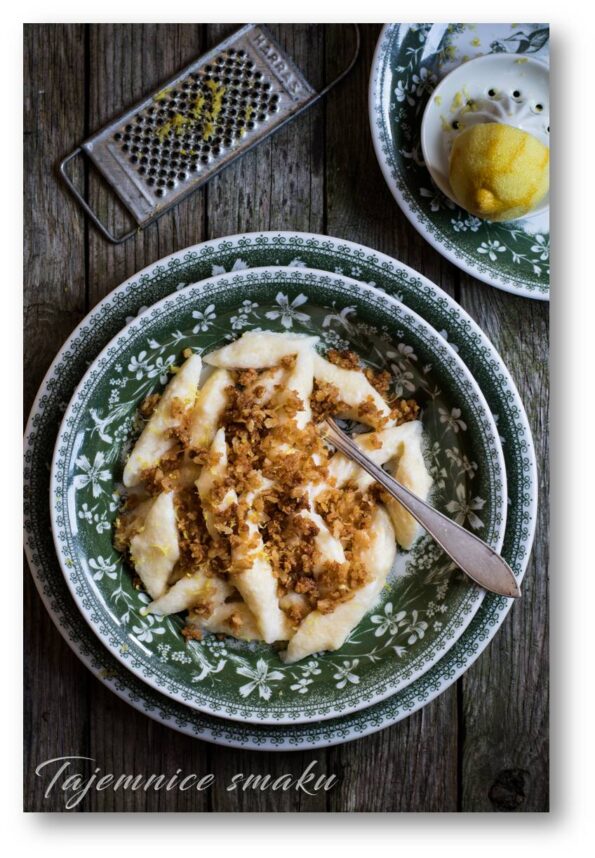 The recipe for lemon lazy comes from Michał Korkosz's book Delightful. It is a quick and easy dish to prepare. A small addition in the form of grated lemon peel changed the character of the whole dish. The dumplings are light, crisp and exceptionally tasty.
I usually serve the noodles with a topping of breadcrumbs toasted with butter. This time, instead of breadcrumbs, I used coarsely crushed Japanese panko breadcrumbs. Slightly caramel, very crunchy sprinkles, delicate lemon noodles... it's delicious and delicious!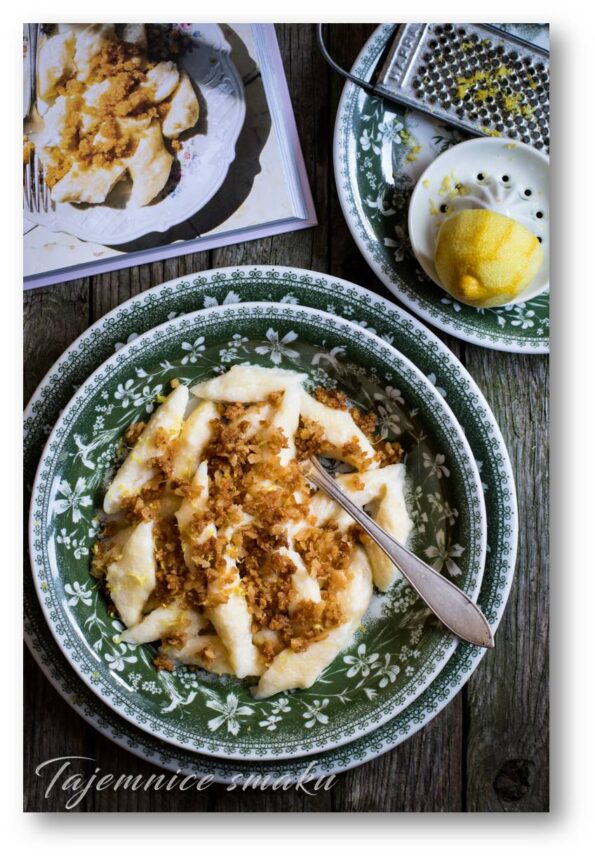 Ingredients for 2 - 3 servings
CAKE
250 ​​g cottage cheese
1 large egg
1 teaspoon of grated lemon zest
1 tablespoon of sugar
50 g all-purpose flour or more if needed
Sprinkle
4 tablespoons of panko* or breadcrumbs
1 teaspoon of sugar
pinch of salt
25 g of butter
Execution
CAKE
In a medium bowl, mash the cheese with a fork, mix with the egg, lemon zest and sugar. Add flour and mix until ingredients are combined. We put the dough on a table sprinkled with flour. Knead gently until smooth and elastic, adding flour if necessary. Form two rolls with a length of about 30 cm from the dough and cut diagonally into pieces.
Boil water in a large pot. Throw half of the dumplings into the boiling water and when they float to the surface after 2-3 minutes, remove them from the water with a slotted spoon. We cook another batch of noodles in the same way. Distribute the ready noodles onto plates and sprinkle with panko sprinkles.
Sprinkle
Toast the panko or breadcrumbs in a medium frying pan until golden. Sprinkle with sugar and after a minute add salt and butter. Fry, stirring often, until the ingredients combine.
Enjoy!
* What is panko?  Panko is a Japanese breading in the form of flakes prepared from white bread without crust. Panko is the equivalent of breadcrumbs, except that it is more delicate in taste and more crunchy. Panko coating can be purchased in larger stores at the stand with oriental food or online, e.g. w Cuisins of the World
also check
Comments