Vegetarian autumn one-pot pumpkin dish - a quick lunch or dinner.
Baked pumpkin recipe is an idea for a quick, simple and delicious autumn lunch or dinner. It is a dish from the "one pot, one pan, one sheet" group. The dish can be prepared with any pumpkin, if not thin-skinned varieties peel it.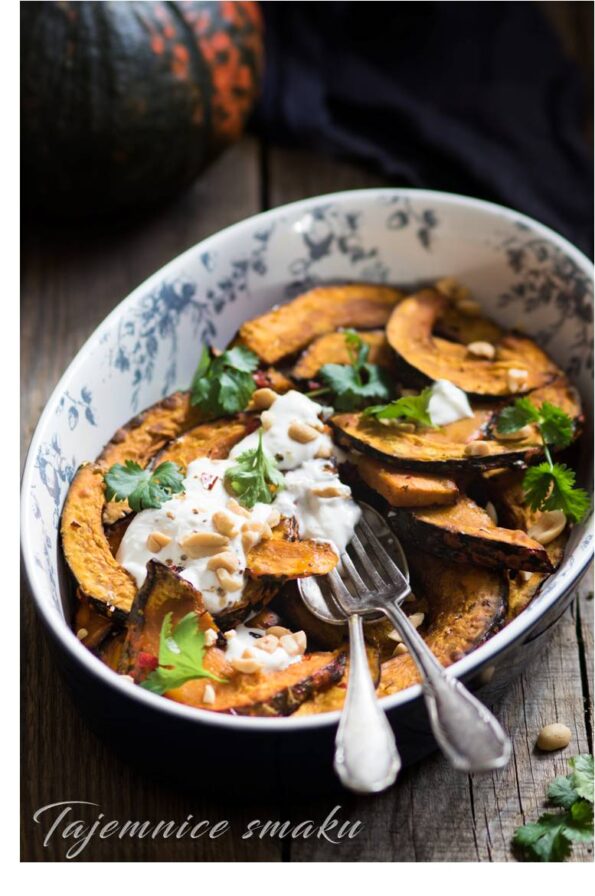 Lemon grass, crunchy peanuts, refreshing ginger, lime and chili add new flavor and character to pumpkin. Roasted pumpkin with lemongrass is a great idea for a light dinner or, after adding, for example, rice, a more substantial lunch.
The dish is a great idea for a light dinner.
If you do not get fresh or frozen lemongrass I recommend ready-made lemongrass paste in jars. Such paste, as well as cardamom pods or coriander seeds, can be purchased in larger stores or online, for example, at Cooks of the World
Ingredients
1 hokkaido pumpkin ( 1 - 1.5 kg)
3 tablespoons of olive oil
1 tablespoon of coriander seeds
seeds scooped out of 2 cardamom pods
1 stalk of lemongrass, finely chopped or 2 teaspoons of lemongrass paste from a jar
1 red chili, chopped
2 limes
thumb-sized piece of ginger, peeled
200 g thick yogurt
100 g roasted coarsely chopped peanuts
a handful of coriander or parsley leaves
Making
We preheat the oven to 200°C. Hokkaido pumpkin does not need to be peeled, so we cut it in half and pick out the seeds. Cut the pumpkin flesh into slices about 0.5 cm thick. Arrange on a baking tray and drizzle with olive oil.
Grind coriander seeds and cardamom in a mortar. We add chopped lemongrass and grind a little. Season the pumpkin with half of the mixture, set aside the other for the yogurt sauce.
We finely grate the peel of one lime over the baking sheet, then cut it in half and squeeze the juice over the pumpkin. Stir and place the baking sheet in the preheated oven. Bake for 45 minutes, until the pumpkin is browned.
While the pumpkin is baking we prepare the sauce. Combine the set aside lemongrass and spices in a bowl with the grated zest and juice of the second lime and finely grated ginger. Add the yogurt and mix thoroughly.
Transfer the roasted pumpkin to a platter, sprinkle with peanuts and cilantro or parsley leaves. Serve with the yogurt sauce.
Take the pumpkin and serve.
Inspiration - One pot, one planet - Anna Jones
also check
Comments