Homemade pickles - fermented fennel
Pickled fennel is my discovery from last season. I prepared two portions then and it turned out that it was definitely not enough.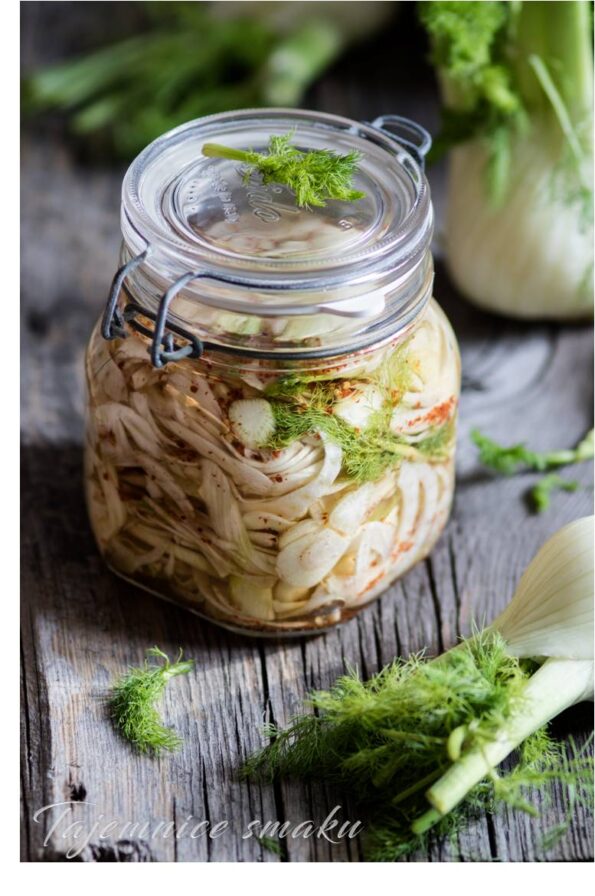 Pickled fennel is a great ready-to-eat salad. Crispy, slightly spicy with a delicate hint of anise, characteristic of this vegetable. The pickle can also be served with a bit of olive oil.
I make kimchi a lot, so there's always a big bag of hot gochugaru peppers in my house. I like to add it to other pickles, so this time it could not be any different. Korean coarsely ground gochugaru pepper and fenugreek can be purchased in online stores, e.g. w Cuisins of the World.
Ingredients for a jar of approximately 700 ml
2 fennel bulbs
2 cloves of garlic
3 slices of fresh ginger
3 slices of horseradish
1 teaspoon of fenugreek
1 teaspoon of Gochugaru (or chili, as much as you like)
brine
Execution
BRINE
1 tablespoon of non-iodized rock salt per 1 l of boiled water and cooled down to room temperature.
PICKLED FENCOL
Peel the garlic, horseradish and ginger and cut into thin slices. Cut the cleaned fennel into very thin slices, preferably with a mandolin.
Place the chopped dill in a jar, add the garlic, ginger, horseradish, fenugreek and pepper flakes. Pour the whole thing with brine, press down so that nothing flows onto the surface of the brine. The optimal height of the brine is 1-2 cm above the fermenting product and 2-3 cm below the edge of the jar..
Vegetables can be pressed down with a small plate, a glass lid from Weck jars, a stone or a special pressure plate for pickles. This is a key principle of safe fermentation, as anything exposed to oxygen can go moldy.
The jar is closed and left for fermentation at room temperature for 3-5 weeks. After this time, put the silage in the fridge or in a cold cellar.
Fennel is not only tasty, but also very healthy. I recommend an exquisite and very simple salad, Fennel carpaccio with shrimps, lamb's lettuce and orange
also check
Comments