Candied orange peels from fresh and frozen peels
Candied orange peel is a great addition to cakes and desserts. It is also an ideal spice for tea or mulled wine. We can also eat it alone, like candy. Packed in small jars, tied with a ribbon or decorative string, they will be a charming and sweet gift.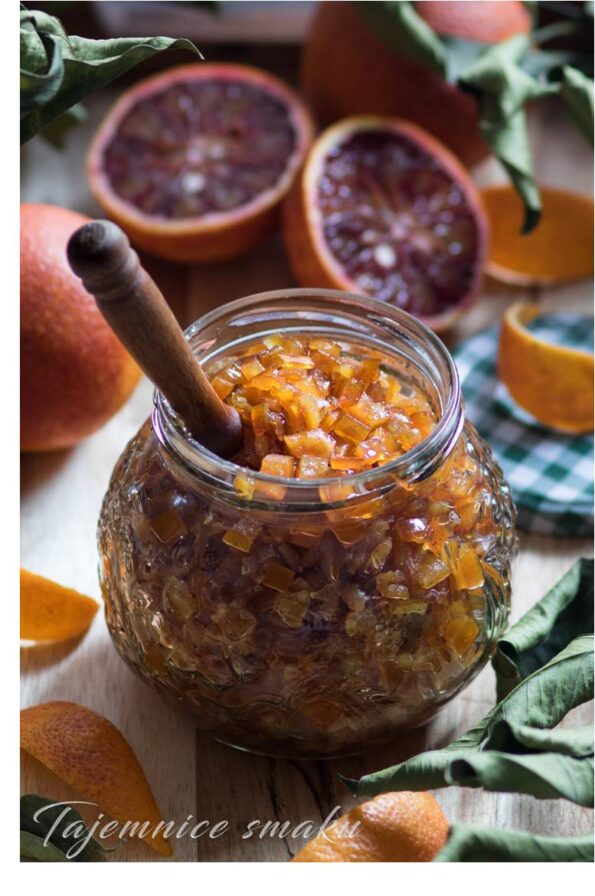 For the preparation of candied peels, I use only peels from organic fruit, unwaxed, which I order in the season directly from Sicilian plantations (incampagna.pl)
INGREDIENTS
100 g of orange peel - weight without albedo part*
150g of sugar
1 tablespoon of lemon juice
100 ml of water
pinch of salt
* Albedo, i.e. the white part of the orange peel, contains many valuable nutrients. Sometimes I remove it, sometimes I don't, it depends on several factors: time, the purpose of the skins and the thickness of the albedo layer. Whether and how much to remove albedo from the skin is up to you to decide.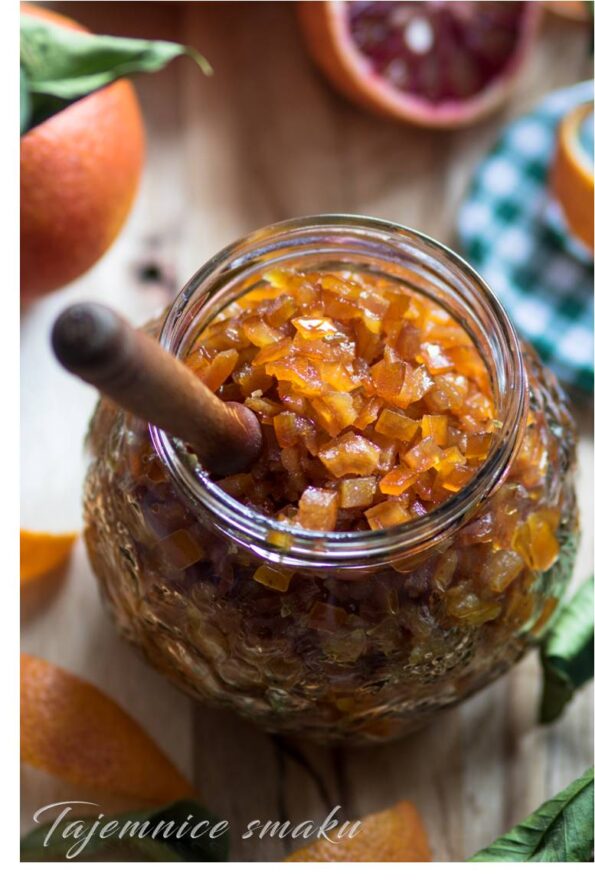 EXECUTION
Orange peels (usually quarters, because this is how I peel the fruit) pour water to cover. Bring to a boil, remove from heat, cover and leave overnight. In the morning, we pour out the water and if we want, we clean the skins from the white part, i.e. albedo. Then we cut the skins into strips or cubes and weigh them.
Boil the syrup, preferably in a wide pot with a thick bottom. We measure the water and sugar proportionally according to the given ingredients, i.e. for every 100 g of crust - 150 g of sugar and 100 ml of water. When the sugar dissolves, add the chopped zests, a pinch of salt and lemon juice. Bring to a boil, reduce the heat immediately and let the skins cook until they are translucent. Stir from time to time and add hot water if necessary.
When the skins become slightly transparent, it is a sign that they are ready. We can boil them for a while until the syrup is reduced or take them hot out of the syrup and put them into sterilized jars and close them immediately. The syrup can be poured into a separate jar or added to the cuticles.
I store candied orange peels in jars in the fridge. I recently opened the last jar of skins from last year, they were stored perfectly.
I did a little experiment and froze the skins. I cleaned and cut the skins into cubes, put them in an airtight container and froze. When I collected the whole container of skins, then without defrosting I threw them into the pot, poured water, boiled it and left it overnight. Next, I proceed in the same way as when candiing fresh peels.
also check
Comments