Chocolate heart cookies with red pepper
Red (pink) granular pepper - dried berries of the Schinus molle plant - "Peruvian pepper tree".
Slightly spicy and sweetish, milder than black pepper and more aromatic.
Cookies with red pepper in a chocolate coating, in addition in the shape of hearts, can fit well into the Valentine's atmosphere :-)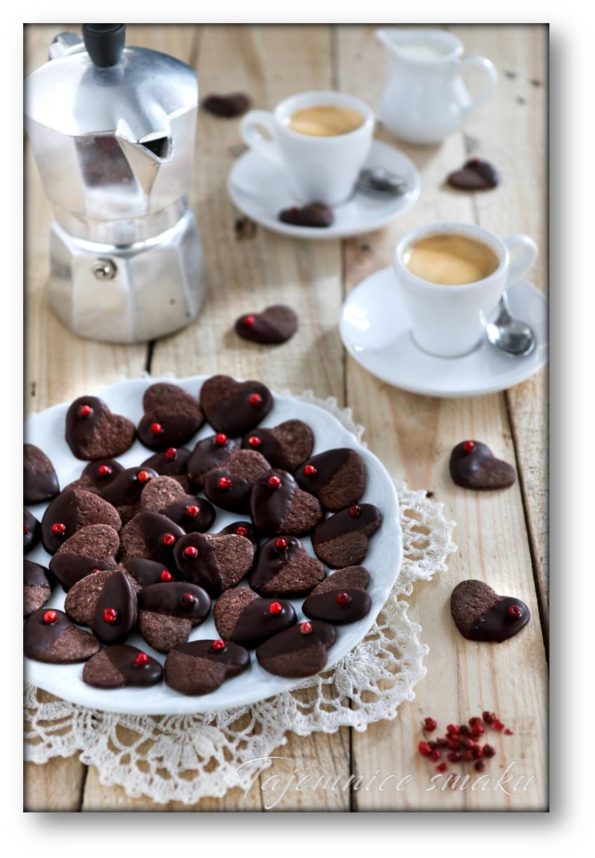 Ingredients
200g butter
150g cake flour
150g wholemeal flour
100g sugar
2 teaspoons of vanilla sugar
30g cocoa
1/2 teaspoon baking powder
pinch of salt
package of red peppercorns - 20g
1 egg
Chocolate topping
100g dark chocolate
25g of butter
1 tablespoon of milk
Decoration
red peppercorns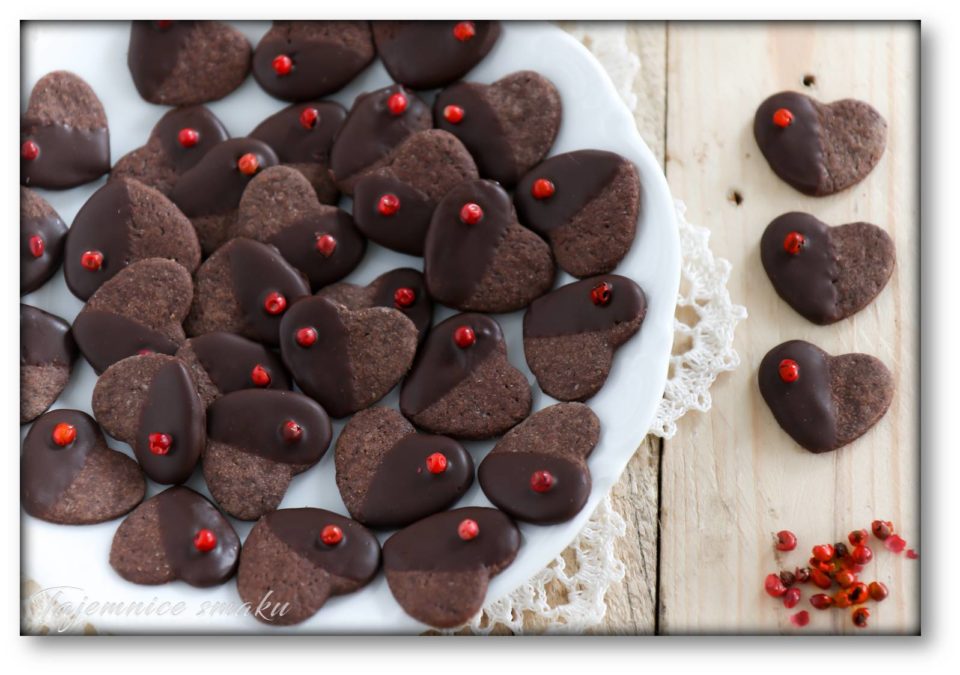 Execution
We crush 15 pieces of red peppercorns in a mortar.
On the pastry board, mix the cake flour with krupczatka. Add cocoa, baking powder, sugar, vanilla sugar, salt and crushed red pepper.
Add the butter in pieces to the dry ingredients and combine by chopping with a knife. For ease, butter can be mixed with dry ingredients in a blender to the so-called "wet sand".
Add the egg and knead the dough. When ready, wrap in cling film and put in the fridge for at least an hour.
Roll out the chilled dough to a thickness of about 3mm. Use the cookie cutters to cut out the cookies.
Bake for about 10 minutes at 180°C, being careful as the cookies can burn very quickly.
Topping
Break the chocolate into cubes, dissolve in a water bath (in a bowl over boiling water), while stirring constantly, slowly add the butter and milk.
Dip the cookies halfway into the glaze and decorate with a grain of red pepper.
Save< /span>
Save< /span>
Save
Save< /span>
also check
Comments