Crème Brûlée with wine plums and rosemary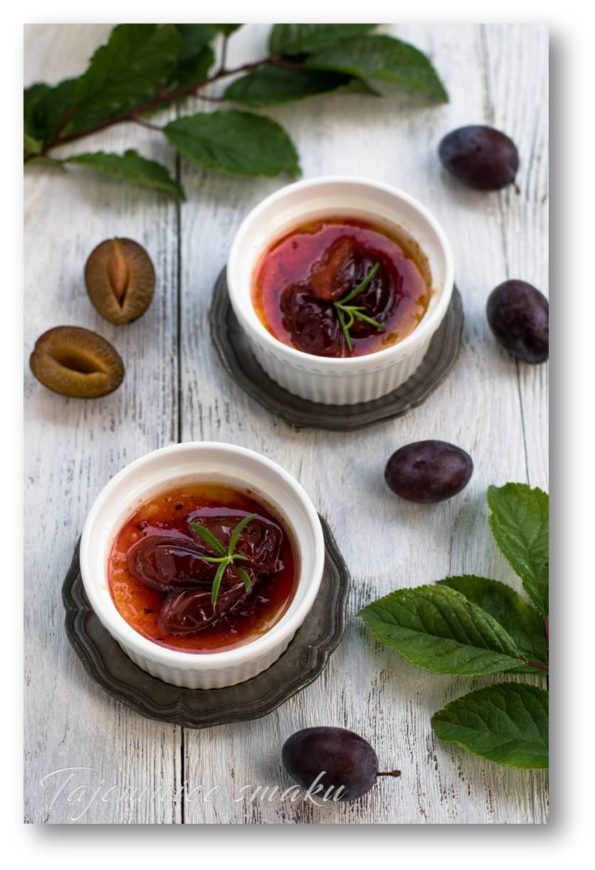 Delicious burnt dessert served with wine plums and rosemary.
Why burnt?
Because "Crème Brûlée" literally translated from French means "burnt cream".
The velvety custard is prepared with egg yolks, cream, sugar and vanilla, then baked, cooled and finally sprinkled with sugar and burnt with a blowtorch.
Recently you can bake the finished custard under the grill of the oven, I have not practiced this method, so I recommend buying a small burner. **
Report for Crème Brûlée with Plums and Rosemary*
Ingredients - for 4 ramekins (cocktail pans) of 150 ml
WINE PLUMBERS
6 large eel plums
200 ml of white wine
1/2 teaspoon chopped fresh rosemary needles
CRÈME BRÛLÉE
4 egg yolks
80 g sugar
80 ml milk
250 ml of cream
grains from a vanilla bean stick
2 tablespoons cane sugar
Additional
4 teaspoons of sugar to sprinkle and caramelize the dessert
Making
Wine Plumbs
Wash the plums, cut them in half and dribble them. Pour wine over them, add chopped rosemary. We put them in the refrigerator for several hours, even overnight.
When the plums have marinated, melt cane sugar in a pan. When a caramel forms, slowly pour in portions of the wine marinade, stir. Add the rest of the marinade with the plums and reduce until a thick sauce forms.
CRÈME BRÛLÉE
Grind the egg yolks with cane sugar. Boil the milk with the cream and vanilla bean, and slowly add to the yolk mixture, stirring all the time.
Preheat the oven to 100°C, set a heatproof or metal bowl with water on the bottom. Pour the mixture into molds (ramekins) and bake for about an hour - the dessert should have the consistency of jelly. Cool, then chill in the refrigerator.
Chilled crème brûlée just before serving, sprinkle with sugar and burn with a blowtorch. Garnish with plum sauce.
* Recipe taken from "Kitchen" magazine 09/2017
** The burner can also be used in the kitchen to burn onions for broth or to burn raw salmon when preparing sushi.
also check
Comments