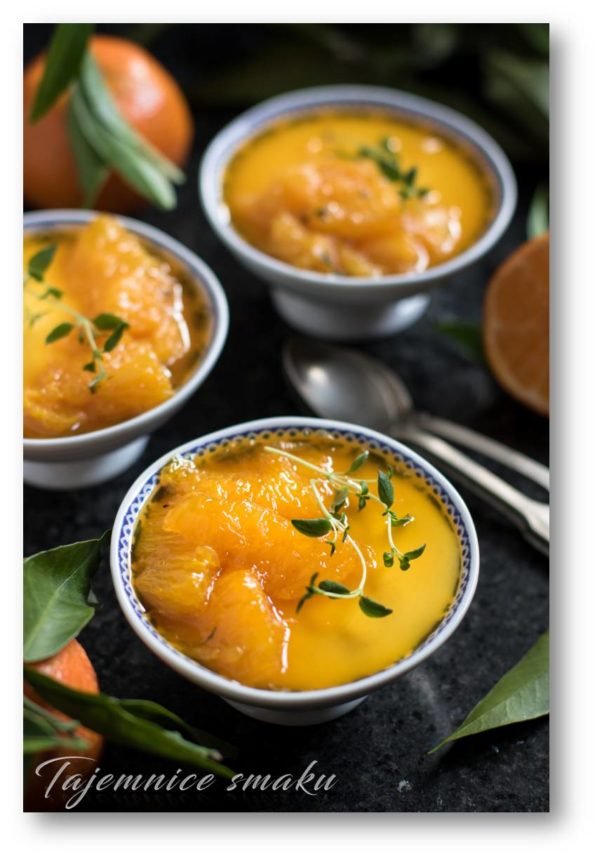 Insanely delicious dessert, delicate and very light. Thanks to yogurt, it is much lighter than marshmallows prepared with cream, and tangerine juice makes the dessert unique and refreshing in taste.
To further emphasize the citrus character of the dessert, it is worth serving it with flambéed oranges with thyme.
Ingredients
FOAM
300 ml of tangerine or orange juice
300 g of natural yoghurt
30g of sugar
1.5 tsp agar*
ORANGE FILLETS WITH THYME
1 teaspoon fresh thyme leaves (or 1/2 dried)
2 large oranges
2 tablespoons of brown sugar
30 ml of orange alcohol, e.g. Cointreau
Execution
Boil 100 ml of tangerine or orange juice, sugar and agar for about 3 minutes, stirring all the time. Remove from the heat, cool slightly, add the remaining tangerine juice and yogurt, mix and pour into small bowls. Cool down in the fridge.
Fille the oranges - use a sharp knife to cut off the upper and lower parts of the fruit, so that the flesh is visible. Then we put the orange upright and cut the peel together with the white albedo. From the fruit prepared in this way, with a sharp and thin knife, cut out the fillets from between the white membranes. Put the fillets aside, squeeze the juice from the remaining part of the orange with your hand.
In a small saucepan, heat the juice, sugar and thyme. When the liquid reduces slightly, add the orange fillets and heat over high heat. Do not mix, just shake the pan gently. At the end, add alcohol and set it on fire.
The dessert can be served in the bowls in which it was chilled, or taken out of the bowls onto plates. Serve the foam with the cooled orange sauce and a sprig of thyme.
Enjoy!
* The amount of agar depends on the manufacturer's recommendations, but do not overdo it with the amount of agar, the dessert should be velvety, slightly wobbly.
also check
Comments