Ukrainian fuczki, Bieszczady fuczki. Delicious, easy and quick fried sauerkraut pancakes
What are fuczki?
Fuczki are Ukrainian sauerkraut pancakes, better known in Poland as Bieszczady fuczki. It's a very easy dish to prepare, similar to potato pancakes, but grated potatoes are replaced with sauerkraut.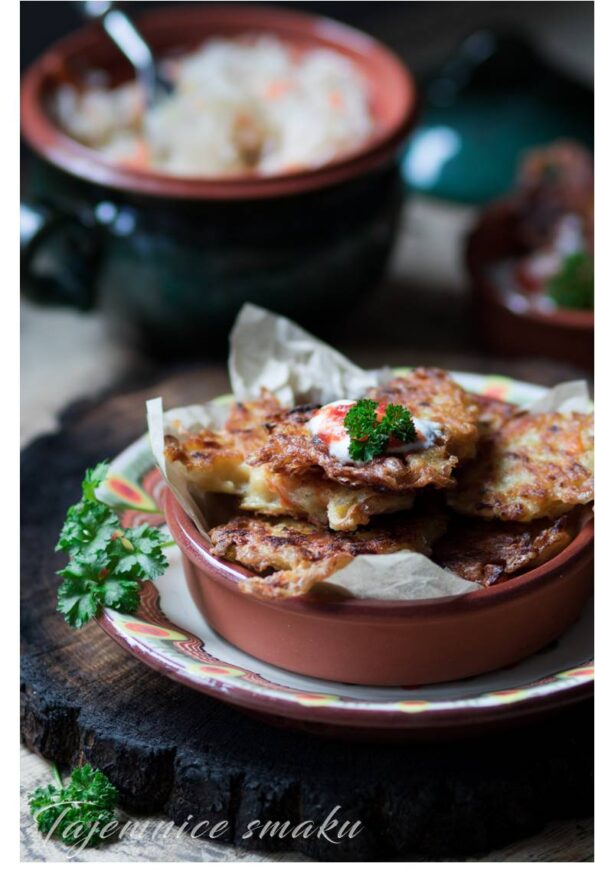 For me, these pancakes are "culinary dope" and I'm ashamed to admit that I haven't made them before. The more that I have sauerkraut in abundance every season. That's how it turned out, but I'll catch up, and you don't wait as long as I did and make fuki necessarily!
The recipe for fuczki comes from the book O! Ukraine Weronika Marczuk, which is a combination of descriptions of places, history and conversations about Ukraine with recipes for Ukrainian cuisine.
INGREDIENTS
2 cups of sauerkraut
1 onion
egg
6 - 7 tablespoons of wheat flour type 500
1/2 teaspoon of cumin or cumin seeds
green parsley and sour cream or natural yoghurt to serve
optional fresh chopped chilli or sauce
EXECUTION
Put the cabbage on a board and chop it.
Peel the onion, finely chop or grate it.
In a bowl, mix the flour with the egg and a little water to make a loose pancake batter.
To the bowl with the dough, put the cabbage, onion and mix.
We add cumin or cumin.
Heat the oil in a frying pan and fry the pancakes on each side until golden brown.
The pancakes taste delicious served with sour cream or yogurt and sprinkled with greens.
If you like spicy dishes, I recommend adding a blob of chili sauce or finely chopped fresh pepper to the cream.
also check
Comments