Potato dumplings with a hole for dessert. Sweet Silesian dumplings with blueberry, yoghurt and almonds
Can you eat Silesian noodles sweet? One of my favorite meals as a child was potato pancakes with sour cream and sugar. Since potato pancakes can be eaten sweet, Silesian dumplings can too. I guess it may be an unusual combination for some, but it's worth experimenting in the kitchen.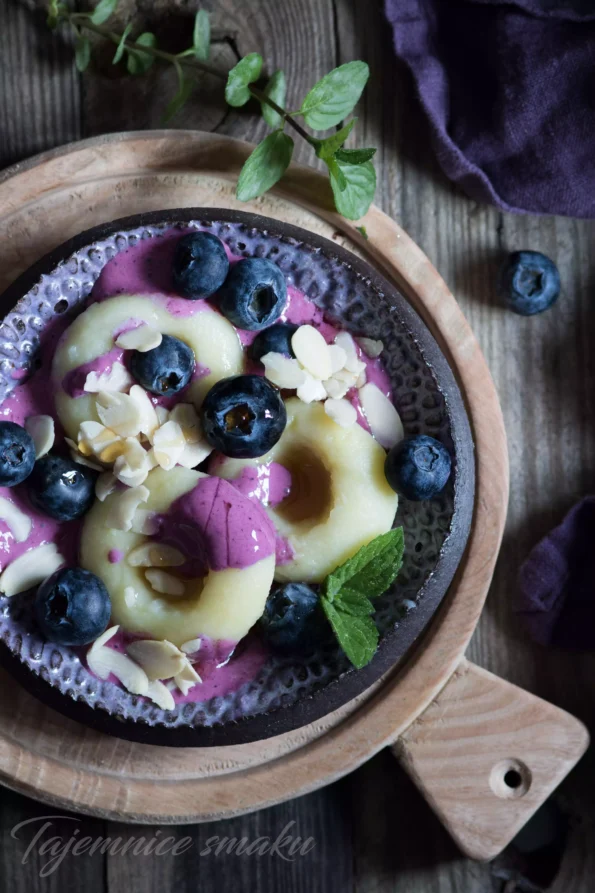 Sweet Silesian noodles are also a great we eat, we don't waste style dish. After all, we can use the dumplings that we have left over from dinner from the previous day. Let our kitchen be zero waste!
INGREDIENTS
Silesian dumplings
1 kg of potatoes
potato flour
salt
EXTRAS
natural yogurt
blueberries or other fruits - fresh or frozen
maple syrup or honey
EXECUTION
Peel the potatoes and cook them in lightly salted water. Once cooked, drain, evaporate and cool.
Squeeze the cooled potatoes through a press or grind in a medium-mesh machine.
Then, we either leave them in the pot in which they were cooked, or put them into a bowl with a wider bottom. Pat the potatoes and divide them into four equal parts.
Take out one part, and put potato flour in this place, enough to fill the hole left by the potatoes. Add the set aside potatoes, season with salt and knead until a smooth uniform dough is formed.
We tear off small pieces of the same size from the dough and roll them into balls in our hands. We press the middle with the thumb, creating a small indentation.
In a large pot, boil water and lightly salt it. Add the noodles in batches and cook over medium heat, stirring occasionally. Fish with a slotted spoon onto a heated plate and serve immediately with your favorite toppings, savory or sweet.
Mix yogurt with fruit. Proportions at your discretion, I added a large handful of blueberries to 200 ml of yogurt. Ready fruit yoghurt, if we like, we can sweeten it.
Flaked almonds can be toasted in a dry frying pan.
If the noodles are cold, steam them or put them back into the boiling water for a minute.
Warm noodles are served with fruit yoghurt and fresh fruit. Pour the whole thing with maple syrup or honey and sprinkle with almond flakes.
also check
Comments