Asparagus and spring onions in pancake batter with spicy fermented hot pepper paste. Pancakes with asparagus and Gochujang
Savory pancakes with green asparagus and Korean gochujang paste are a great idea for a quick lunch, dinner or dinner. The recipe for this delicious dish comes from the book SMAK by Yotam Ottolenga and Ixty Belfrage. In the book, the dish is described as pancakes, but I think they can also be described as omelettes or pancakes, pancakes or pancakes.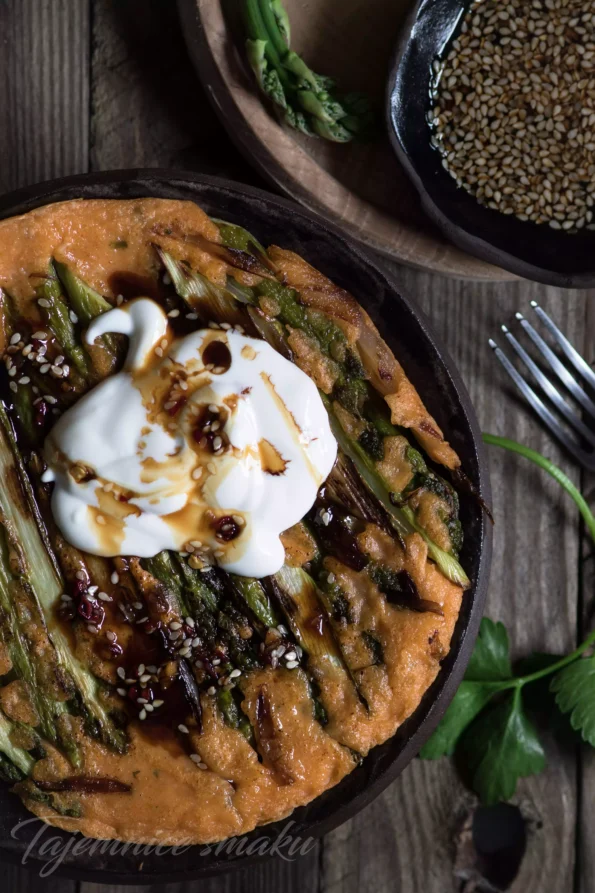 Gochujang is a Korean hot pepper paste, fermented. It is used for marinating meat, as a seasoning for soups, stews and for pickling vegetables, e.g. kimchi. It is also a great addition to pancake batter. The spiciness and taste of the pancakes will depend, among other things, on the quality of the gochujang paste used. So try it before adding it to the dough so there are no surprises.
INGREDIENTS for 4 pancakes
135 g of wheat flour
60 g rice flour
1 egg
325 ml of very cold water
1.5 tablespoons of hot pepper paste Gochujang (more or less as you like)
2 tbsp coarsely chopped fresh cilantro or parsley
frying oil
300 g asparagus (without woody ends), halved lengthwise
120 g of spring onions cut in half crosswise and lengthwise
salt
yoghurt or creme fraiche to serve with sauce
SOS
50 ml of soy sauce
1 tablespoon of honey
2 teaspoons of roasted sesame seeds
2 teaspoons of rice vinegar
1 garlic clove, finely aged or crushed
fresh chili, chopped or dried in flakes - to taste
EXECUTION
We are preparing the sauce. Put all the ingredients in a bowl, stir until combined and set aside.
Pour both flours and half a teaspoon of salt into a larger bowl, mix with a whisk.
In a separate bowl, mix eggs, ice water, gochujang paste and cilantro.
Pour the wet ingredients into the flour in a thin stream and mix with a whisk until a smooth mass is obtained, no longer.
In a frying pan with a diameter of 18 - 20 cm, pour a tablespoon of oil and heat it well.
We put 1/4 of the asparagus, sprinkle with a pinch of salt and fry for about 2 minutes until they start to blush. Turn the asparagus several times during frying.
Add 1/4 spring onions to the pan and fry for another 30 seconds.
Pour the asparagus and spring onions with 1/4 of the batter, spread evenly over the pan and fry for about 2 minutes.
Flip and fry the other side until the pancake turns brown and crispy.
Put it on a plate and fry the next pancakes.
Distribute pancakes on plates, serve with yoghurt, previously prepared sauce and coriander.
also check
Comments