<! - wp: image {"id": 2159} ->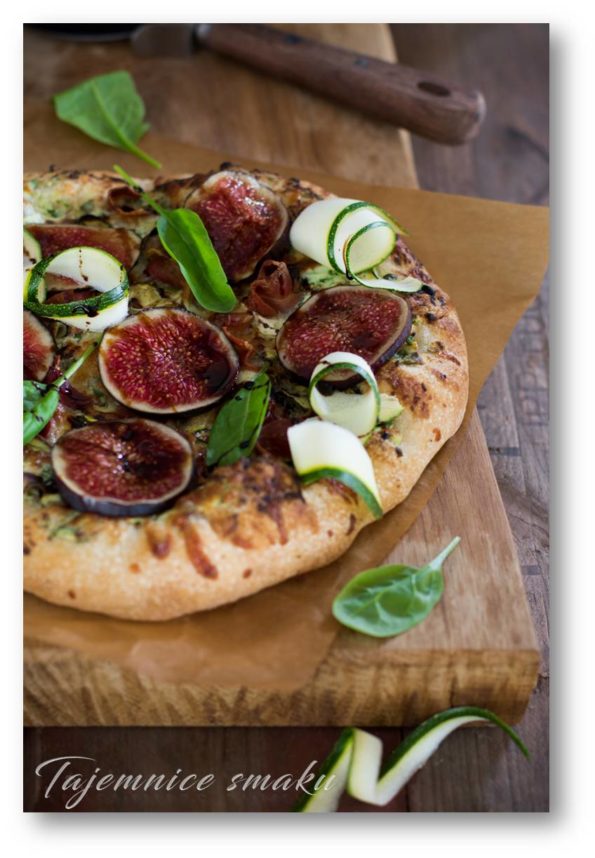 <! - / wp: image ->
Night pizza is a conventional name, and it results from the fact that we make the cake in the evening and put it in the fridge overnight. Such a cake in the refrigerator can it took about 24 hours to mature, but it happened to me more than once that it took longer, even two days.
I really like making pizza this way. First, the pizza will go on we can prepare the second day at a convenient time. Second, so ripening the dough after baking is very tasty, crunchy on the outside and fluffy inside.
Ingredients for 3 small pizzas
CAKE
500 g of pizza flour type "00"
15 g of fresh yeast
8 g ​​of salt
30 ml of olive oil
300 ml of water
EXTRAS
250 g ricotta cheese
50 g of fresh spinach leaves
a pinch of salt and pepper
200 g of mozzarella cheese (hard, rennet, unripened, semi-fat)
1/2 small zucchini
80 g of dried sliced ​​ham, here Prosciutto Crudo
3 teaspoons of olive oil olives
thick balsamic vinegar (Aceto Balsamico)
ADDITIONALLY
3 fresh figs
spinach leaves
zucchini strips
Execution
CAKE
Dissolve yeast in warm water, add flour, Stir until ingredients are combined, cover and set aside for an hour (autolysis). After this time, add salt and oil and knead the dough, until it comes away from the sides of the bowl (I knead the dough in the robot with hook).
Cover the kneaded dough (with a tight lid or foil so that it does not dry out on top) and set aside in the refrigerator for 12 - 24 hours. I usually knead the dough in the evening and put it in the fridge. On second the day I pull out the dough when I plan to bake a pizza.
After taking the dough out of the fridge, divide it into three parts. Each one Put the portion on a floured board, lightly knead it and shape it balls, cover with a cloth and set aside for about 30 minutes. Then we roll out each ball of dough or form a thin round cake in your hands. Put each cake on sheets lined with baking paper, cover with a cloth and set aside for about 30 minutes.
The oven is set to the maximum temperature (250 ° C).
EXTRAS
Chop the spinach and mix it with the ricotta cheese, a pinch of salt and pepper. Grease the dough pancakes with the prepared cheese mass. We shower mozzarella cheese grated on a coarse-mesh grater. We cover with pieces dried ham and thin strips of zucchini. We cut the strips with a peeler for vegetables. Sprinkle each cake with 1 tablespoon of olive oil and bake for about 12 - 15 minutes, until the edges are golden and crispy.
Cover the baked pizzas with slices of fresh figs and leaves spinach and zucchini strips, then sprinkle with thick balsamic vinegar.
Enjoy your meal!
also check
Comments