Salad with Patchouli, Chickpeas, Tomatoes and Quail Eggs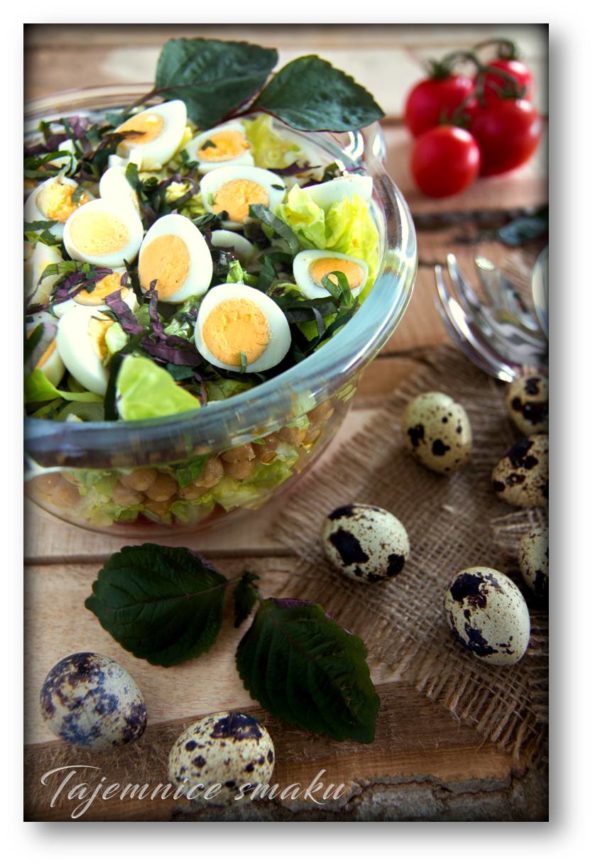 In the heat of Christmas shopping, we came across a novelty in the store herbarium.... Scented plant.
First reaction?
Pot in the paws and smell!
Since it is a fragrant plant, it should smell - and it smells!
How does the fragrant plant smell?
Here comes the conundrum, how to describe it?
Smells.... a little mint, a little rosemary, a little oregano.... it smells very herbal, in fact, it is difficult to determine its specific aroma.
It smells beautiful, it looks beautiful, so why not take it home?
And the plant stood like this throughout the Easter holidays on the windowsill, watered, stroked, until the day came when its aromatic leaves enriched the taste of the salad. And it was worth it! The addition of grosbeak made a banal salad remarkable - intriguingly aromatic, simply delicious!
Ingredients - proportions for 2 people
Layers
6-8 pieces of cherry tomatoes - cut into quarters
1-2 pieces mini romaine lettuce - chopped
200g cooked chickpeas
1 shallot - sliced in feathers
12 quail eggs - hard boiled and cut in half
Decoration
Fragrant seeds - a large handful of leaves
Sauce
2 tbsp flaxseed oil
1 tbsp apple cider vinegar
1/2 teaspoon honey
salt, pepper to taste
Makeup
Place the salad layers in the order listed above - they look best in a transparent bowl. Mix all the ingredients for the dressing and pour it over the layered salad.
We sprinkle the whole salad with thinly sliced leaves of grosbeak.
The prettiest leaves are left for decoration.
also check
Comments